By Liu Lingling from People's Daily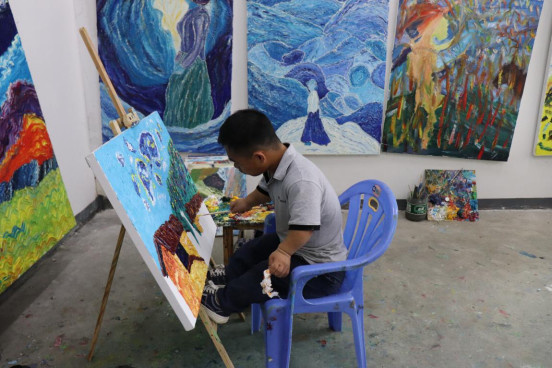 Shen Minghui draws in his studio/ Photo by Liu Lingling
The Shuangxi Township in Pingnan County, southeast China's Fujian Province has successfully explored a poverty relief mode of art training, setting a good example for others in poverty alleviation.

The Antai Art Park in the township has helped over 500 poor people and 150 disabled people to start business and take up an occupation by offering them free training of art. It has attracted about 20,000 domestic and foreign learners since it was established in October 2015.

The art park invited a team from a Shanghai art education research center and set up the "Shuangxi Ancient Town International Art Education Center for Disabled People."

Currently, there are 42 art studios, including 10 for the disabled, as well as 30 art inns in the park. Works by the learners at the park are sold via multiple channels, including We-media and e-commerce platforms. About 6,000 pieces of such work have been sold as of now, totaling more than 5 million yuan.

The Art Park is open to the whole society, especially poor villagers and people with disabilities. The government provides free-of charge access to studios and trainings for the disabled apprentices, and also subsidy for painting materials and food allowances.

To date, nearly 40 disabled people have turned into artists. Shen Minghui and Xue Meilan were two of the outstanding apprentices.

A painting named Tree of Life by Shen was sold at a price of 11,000 RMB in 2016. In addition, an art piece from another apprentice named Yang Fawang was awarded the second prize in an art exhibition for disabled people in Fujian and Taiwan.

"Drawing help me regain confidence and respect," said Shen Minghui, a 2-year art apprentice in the center, who was born with a short stature. "I can feel the sense of fulfillment and freedom when my drawings and creativities are recognized."

Now, Shen has established his own studio, and each of his paintings can be sold for 1,000 to 2,000 RMB. Talking about the future plan, the 28-year-old young man said he will go on to create more works, and plan to hold exhibitions so as to let more people know his paintings.

There are many disable artists like Shen Minghui in the Antai Art Park. Pingnan County has made great efforts in recent years to help the disabled improve their ability, shake off poverty through art creation and regain confidence about life.
"To teach them how to fish is better than giving them fish directly, and that was what we aimed to achieve in the 2015's stride to promote the construction of art park," noted Zhang Zhengrong, director of the cultural creation office at Pingnan County, adding that with the mastery of professional skills and various form of entrepreneurship, the right to life and development of the disabled people has been well protected.

The Antai Art Park in Shuangxi is China's first art learning center built in poverty-stricken mountainous areas. The poverty alleviation through art creation in Fujian Province has played a role in improving local people's income and living standards, become an innovative mode for targeted poverty alleviation among the poor disabled people, and represented the stable progress achieved in the cause of protecting disabled persons' rights in China.

In 2017, about 706,000 disabled Chinese received skill training, and 105,000 have been put into jobs; 218,000 households with a disabled member received assistance, according to data released in early 2018 by the Office of Poverty Alleviation of the China's Disabled Persons' Federation.