By Liu Yao, People's Daily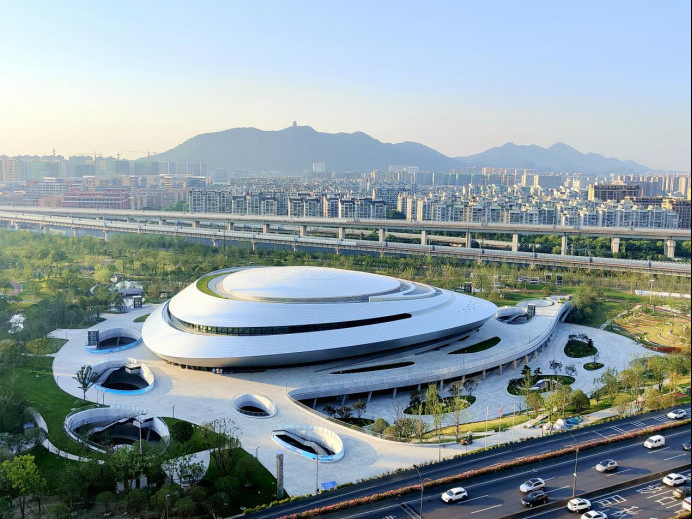 Photo shows China Hangzhou Esports Center in east China's Zhejiang province, the venue for Esports events of the Hangzhou 2022 Asian Games. (Photo by Xu Genzhu/People's Daily Online)
The Hangzhou 2022 Asian Games will be held in Hangzhou, east China's Zhejiang province from Sept. 23 to Oct. 8 this year. It is attracting more young people as the first Asian Games with Esports as a medal event.

There were seven events under the sport, namely, Arena of Valor Asian Games Version, Game for Peace Asian Games Version, League of Legends, Dota 2, Dream Three Kingdoms 2, FIFA Online 4 and Street Fighter 5. Most of the games enjoy a broad player base, and some of them have their own events at national, continental or even international levels.

"Esports is a prospering industry in Asia. It is releasing huge potential and connecting people from different backgrounds, cultures and countries," said Kenneth Fok Kai-kong, vice chairman of the All-China Youth Federation and president of the Asian Electronic Sports Federation (AESF).

Making Esports a medal event of the Asian Games has not only boosted the Chinese Esports industry, but also created opportunities for those engaged in Esports in Asia and even the world at large.

According to a 2023 report on the development of Esports in Asia, the global Esports industry has embraced rapid development after Esports became an official event of the Asian Games. The market-oriented Esports industry is now receiving national-level guidance and continuously expanding its consumption market.

The European Union, the United States, Russia, Saudi Arabia, Sweden, the United Arab Emirates, Australia and some other countries and organizations have acknowledged the strategic value of Esports for national and regional economic development, which provides an important opportunity for the international development of the Esports industry, said Zhang Yijun, deputy director-general of the China Audio-video and Digital Publishing Association.

The report showed that East Asia boasts the most mature Esports industry in Asia. Besides, the industry is developing rapidly in Southeast Asia and the Middle East.

Prince Faisal bin Bandar bin Sultan Al Saud, president of the Saudi Esports Federation, noted that Saudi Arabia is charting its own path for Esports development and has begun a national Esports development strategy to establish itself as a global gaming and Esports center by 2030.

He hopes that Saudi Arabia and China can enhance cooperation on Esports and thus set an example for international Esports development and cooperation.

In the report, China ranks first in terms of the index of regional Esports development, and is leading in building Esports clusters and policy supports.

Chen Shaohua, deputy head of the culture, radio, television, tourism and sports bureau of Shenzhen, south China's Guangdong province, told People's Daily that Shenzhen will enhance Esports content creation, foster market players, build a system of Esports events and activities and optimize the environment of the industry development.

In three years, the city aims to build itself as an Esports hub that drives the industry in the Guangdong-Hong Kong-Macao Greater Bay Area with national influence, leading Chinese Esports to the world stage.

The inaugural Olympic Esports Week, the first live, in-person edition of the virtual sports series created by the International Olympic Committee, was held in Singapore this June, featuring 10 virtual sports.

Recently, it was confirmed that Esports is set to continue as a medal event for the 2026 Asian Games to be held in Japan.

The continued presence of Esports in the Asian Games boosted the industry's confidence in sustainable development, said Hou Miao, vice president of Tencent Games and head of its Esports division.

"Being held in different countries and regions, Esports events will give the industry new elements and new strength," Hou added.

During the preparations for the Hangzhou 2022 Asian Games, Kenneth Fok Kai-kong led the AESF to launch Asia's first official Esports event Road to Asian Games 2022. He said the event will be upgraded to an Esports Asian Cup the next year and will keep exploring and establishing Esports standards in Asia.

Insiders said that establishing rules, standards and systems for Esports will become a significant topic for the industry as Esports is joining traditional sports events such as the Asian Games.

Zhang said it is important to accelerate the compilation and implementation of key Esports standards, so as to release more economic and cultural benefits to the industry and build a diverse Esports ecology.

Chinese retired pistol shooter Xu Haifeng, the first Chinese athlete to win a gold medal at the Summer Olympics, noted that Esports is currently in a phase to scale new heights with past achievements, and the Hangzhou 2022 Asian Games is exactly a chance for Esports to prove its value. The Hangzhou 2022 Asian Games will bring new opportunities to both the Esports industry and athletes, Xu added.