By Zheng Yi, People's Daily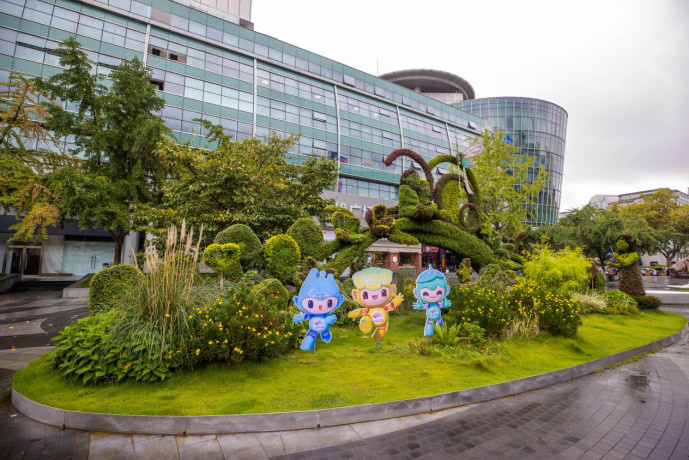 Photo shows a flower bed with the mascots of the Hangzhou Asian Games on Dongpo Road, Hangzhou, east China's Zhejiang province. (Photo by Zhang Wujun/People's Daily)
Taking a stroll on the streets of Hangzhou, the host city of the 19th Asian Games, one can find elements of the Games everywhere - an "Asian flower carpet" consisting of over 200 varieties of flowers along the Qiantang River, synthetic racetracks in subway stations, and Asian Games-themed Fuxing bullet train running between Hangzhou and the co-host cities of Wenzhou and Jinhua...
Unquestionably, the three mascots of the Hangzhou Asian Games, namely "Congcong", "Chenchen" and "Lianlian" are the most eye-catching. Their figures can be spotted everywhere - from sculptures, paintings and posters dotting the streets, to traffic lights at intersections and piers of overpasses.

The designs of the three mascots are unique. Inspired by the Archaeological Ruins of Liangzhu City, "Congcong" has mythical beast facial patterns on its forehead, which imply bravery and self-transcendence. Representing the Beijing-Hangzhou Grand Canal, "Chenchen" has the Qiantang River's tide atop its head and the Gongchen Bridge on the forehead, symbolizing the pioneering spirit of riding the wind and breaking the waves. Wearing a lotus leaf-shaped headpiece decorated with the Three Pools Mirroring the Moon, a scenic view of the West Lake, "Lianlian" seems to have emerged from the misty willows and arched bridge of the scenic West Lake, representing interconnectivity and inclusiveness.

As the visual emblems of the Asian Games, the mascots must be amiable while also showcasing the unique charm of the host city. The creative design for these three mascots was chosen from over 4,600 submissions, and underwent multiple revisions before taking their final form seen today.

For visitors setting foot in Hangzhou for the Asian Games, a cheery welcome from the mascot trio is likely the first thing they'll encounter. In the arrival areas of the airport and train stations, life-size mascots hold greeting signs to welcome guests. Outside the athletes' dining hall stands a spray-painted display themed with the mascots. Stuffed toys of the trio are given to journalists together with the journalist kits. Tourists are often seen snapping photos in front of the mascot statues near the West Lake.

The Hangzhou Asian Games, marking the third time for China to host this event, has evoked shared memories.

In 1990, the panda mascot of the Beijing Asian Games "Panpan" holding a gold medal, released a signal of increasing openness. In 2010, the five goats of the Guangzhou Asian Games conveyed blessings of harmony.

Today, the mascots for the current Hangzhou Asian Games embody the city's three world cultural heritage items. They not only carry rich cultural legacy and a modern spirit, but also convey the vision of "@Future."