By Wang Xinping, Ji Peijuan from People's Daily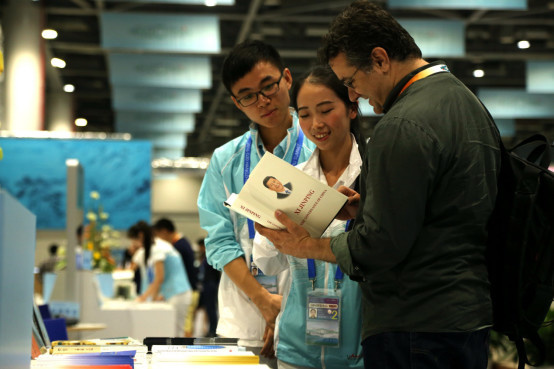 The news center of the G20 Hangzhou Summit begins operation on Sept.1. A foreign journalist is inquiring about the book Xi Jinping: The Governance of China at the booth of the news center. (Jiao Xiang from People's Daily)
The 11th G20 Summit is scheduled to kick off on Sept. 4 in picturesque Hangzhou, the capital of eastern China's Zhejiang province. Besides its attractive landscape, the hospitable host city will also present the world an innovative China and add luminance to the summit with its atmosphere of innovation and entrepreneurship.

The city is now ready for the summit. A total of 4,021 volunteers have started their work and they will provide services for guests around the world in meeting halls, hotel check-in counters, the West Lake, airports and bus stations.

The local enterprise Alibaba has made the city a more special place. The e-commerce giant secured robust growth in terms of turnover and revenue last year when the global economy was not well recovered.

Its growth, which exceeded the expectations of Wall Street, reflected the huge resilience and potential of the service sector driven by consumption economy and technology. Many foreign politicians are expecting to visit the company, hoping to promote the products from their countries through the platform of Alibaba.

Dream Town, an incubation center of makers located not far from Alibaba's Xixi campus, is another namecard of Hangzhou's innovation and entrepreneurship. The center has gathered more than 680 startups and 6,400 talented people in merely a year.

The startup projects such as You+ International Youth Community, which offers lodging and living space to entrepreneurs and young people, as well as a business incubator named "Liangcang" have triggered interests from foreign journalists.

Johnny Erling, a reporter with the German newspaper Die Welt, commented that the Dream Town reflects China's efforts in innovation and entrepreneurship, as well as the direction of its economy.

As a city highlighting innovation and entrepreneurship, Hangzhou also boasts a global horizon. By taking advantages of the opportunists brought by China's "Internet+" and "Made in China 2025" strategies, it dedicates to driving economic growth by information economy and intelligent manufacturing.

Data showed that the high-tech industrial added-value of the city increased 9.8 percent year-on-year to 121.26 billion yuan ($18.15 billion) in 2015, and the information economy at the same year contributed over 50 percent to the GDP of the city.

The legend of Alibaba, the passion of the Dream Town and the "cloud city" plan all make Hangzhou a graphic reflection of an innovative China. Hangzhou is waiting for the G20 Summit with its innovative spirit.