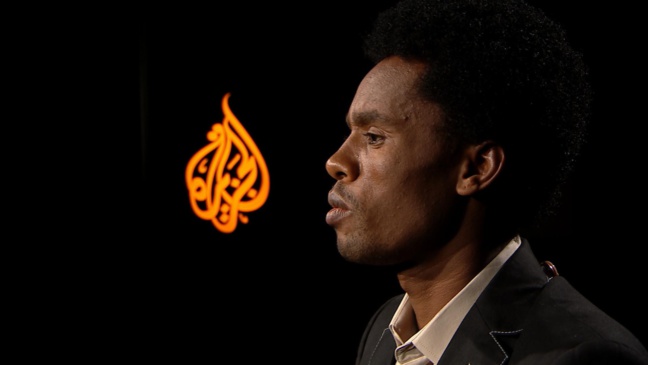 Oromo marathon runner Feyisa Lilesa does not expect a hero's welcome in Ethiopia, despite winning Silver at the Rio Olympics last month. Instead he's claimed that the Ethiopian government will have him killed for  
crossing his wrists in a 'X' above his head as he neared the finish line, in a show of solidarity with the Oromo, Ethiopia's largest ethnic group, who have been protesting for nearly a year about being treated like second-class citizens in their own country. 

Speaking to Al Jazeera on Monday, Lilesa told The Stream's Kate Woodsome that his wife's brother went missing in one of the Oromo's protests, while his friend died in a suspicious fire at a prison where opposition figures were held. "Even when I practised, personally my legs were running but my mind was also racing, preoccupied by the suffering all around me. All this has been on my mind for a very, very long time."

"I knew this was being live broadcast around the world, and I wanted to show that the protests in Ethiopia were peaceful, just like my sign was," he says. "As soon as I was selected for the Rio Olympic team, I decided if I won and got a good result, I wanted to use that opportunity to raise awareness and the voice of my people."

Lilesa stayed in Brazil two-and-a-half weeks after the Olympics ended, waiting for a US visa for people with extraordinary skills or abilities, and is now in Washington. He says he is not seeking asylum and will spend the next few months training out west where the altitude is higher, while he figures out what his best for him and his family.

The 26-year-old says he did not share his plans with his family because he did not want to worry them. He expressed his grief at being separated from his wife, five-year-old daughter and three-year-old son.

"Every time I call my wife, they want to know when I'm coming. They ask me, 'What are you up to? When are you coming home?' This makes me emotional inside, so even when I call on Skype, I have to fight back tears."

What will bring him home, he says, is real change. "I want the superiority of one ethnic group to end. If everyone does not have equal power, their different political, religious views respected, in the future, there will not be sustainable peace in the country."

He looks to the US, an ally of Ethiopia, as a better example of what his country could be. "I heard Obama making a statement when there were children being killed in America by gun violence and he cried on the national TV. That's the kind of government you have. But on the other side in Ethiopia, we have a government that is killing its own people, children as young as nine years old. The freedoms Americans enjoy here, and the kind of government they have, that's what the American government should be pushing Ethiopia to do."

 Getachew Reda, Ethiopia's communications minister, laughed off the threat to Lilesa's life. "He's making a big fuss out of nothing," Reda told Al Jazeera by telephone from Addis Ababa on Sunday, the Ethiopian New Year.
"I think that wasn't good thinking, but he's entitled to do whatever he wants to do."