Source: People's Daily /Global Times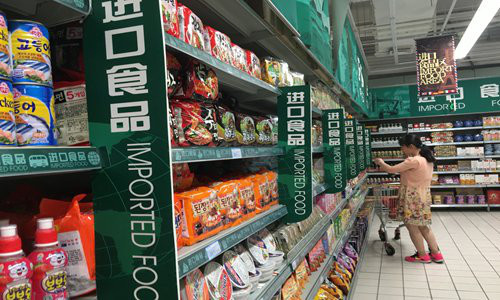 Source: People's Daily /Global Times
Experts said on Wednesday that China should import more consumer goods, high-tech goods and minerals, based on the call from the central government earlier this year to expand China's imports.

"China should increase the imports of consumer goods that can drive the upgrading of domestic consumption and cater to the rising demands of consumers," said Chen Fengying, an expert at the China Institutes of Contemporary International Relations.

"Many tourists travel abroad to buy such products, or rely on overseas shopping agents, so the relevant imports should be increased to stop this situation," Chen told the Global Times on Wednesday.

According to a report by State-owned broadcaster China Central Television, Chinese tourists spent as much as $260 billion in 2016 to purchase consumer goods. Such products often include cosmetics, clothing, shoes, baby care and food products.

High-tech products that can be purchased in the international markets should also be increased, Chen said. "Drugs to combat cancer fall into this category. Tariffs could be lowered or removed for these goods."

Chen noted that imports of mineral resources should also be expanded to help preserve weak domestic reserves as they are non-renewable.

Aid in upgrading

Dong Yan, a research fellow at the Chinese Academy of Social Sciences, also listed high-quality consumer goods as a priority.

"The first criterion in deciding what types of imports should be further expanded is whether they can upgrade Chinese people's consumption, as China already manufactures a wide range of competitive industrial goods," Dong told the Global Times on Wednesday.

"High-tech imports should also be increased, as long as they can support China's innovation drive, help with the phasing out of outdated industrial capacity and are conducive to the country's supply-side structural reform," Dong said.

"Reducing tariffs or other measures that could increase domestic consumption or promote services sector activity would likely help China achieve its goal of growth model transition," Lillian Li, a senior analyst at Moody's, said in an email sent to the Global Times.

"Imports of final consumer goods that can upgrade household consumption are likely to rise. The extent of this effect will depend on whether domestic producers will be able to meet consumer demand, both in terms of quantity and quality of products," Li noted, adding that imports of commodities and some lower value added products for manufacturing are likely to increase as more Chinese producers move up the value chain.

"To speed up technological development, imports of intermediate goods for high-tech manufacturing production and research and development could also see an increase if advanced economies relax their restrictions on exports of such goods and services [to China]," Li said.

A long-term increase in China's imports, as opposed to purely a short-term boost, will depend on a combination of macro- and microeconomic factors, said John Ross, a senior fellow with the Chongyang Institute for Financial Studies at Renmin University of China.

"Macroeconomically, only medium- to-high-speed growth of China's economy can sustain high import levels while microeconomically China has to find an appropriate way in terms of international division of labor," Ross said.

"China can gain from imports of high technology and high-value foodstuffs such as premium fruit, wine and beverages," Ross told the Global Times Wednesday.