(People's Daily Online)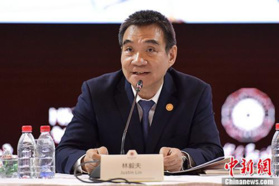 China is able to maintain annual GDP growth of 6 percent in the next 10 years, Justin Yifu Lin, former chief economist of the World Bank firmly believes, Chinanews.com reported on April 9.
The growth rate is capable of satisfying targets in various aspects related to the Chinese government and the people, Lin said at a breakfast meeting in the Boao Forum for Asia (BFA) on April 9.
He said to make that possible, three things are to be done. The first is to build a comparatively prosperous society in a short term. China needs to eliminate poverty, an object needing efforts of not only the government, but also the companies.
Also, financial crisis should be avoided, Lin said, adding that the Chinese government is taking measures to lower leverage for a soft landing. 
He also said that the business environment should be improved and that green development should be further promoted. "China must find balance by adhering to green development. Furthermore, an open economy in China will benefit from and benefit the global market," he explained.
Chinese economic growth should also be inclusive, which can be achieved by further deepening reform and building a modern society based on rule of law.
"China will possibly become the world largest economy, even when exchange rates are taken into consideration," Lin said. "By then, China's economy will account for more than 30 percent of global economy annually, becoming a very good opportunity for enterprises and people around the world," the economist added.
The 2018 Boao Forum for Asia, themed "An Open and Innovative Asia for a World of Great Prosperity", is being held in Boao, South China's Hainan province.