By Huang Fahong from People's Daily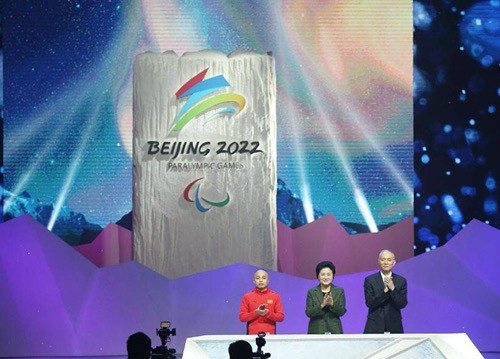 The emblem of Beijing 2022 Paralympic Winter Games is unveiled during the emblem launch ceremony for the Beijing 2022 Olympic and Paralympic Winter Games in Beijing, capital of China, Dec. 15, 2017. (Photo by People's Daily Online)
Officially licensed memorabilia are released by Beijing to mark the special moment of Paralympic flag handover, as the PyeongChang Winter Paralympic Games came to an end on Sunday.

The resilient and perseverant athletes on the Paralympic games, in the past few days, have left a deep impression on global audiences.

Four products, including commemorative badges, bronze medals, silver medals, and mouse pads are scheduled to be unveiled by Beijing Organizing Committee for the 2022 Olympic and Paralympic Winter Games on the same day of the flag handover on the closing ceremony of the PyeongChang Games.

The badges, bronze medals and silver medals are limited to 2,022 units to ensure their collectible value.

The official licensed products are exquisitely produced to carry the spirit of the Paralympics. For instance, the limited badges, themed with sledge hockey, are made of alloy and colored through imitation hard enamel. The athlete on the badge can swing from side to side, which is a novel design to showcase the charm of the sport.

It is learnt that these Paralympics memorabilia is launched on Sunday at the official retail and online stores for the Beijing Winter Games.