By Li Yingqi from People's Daily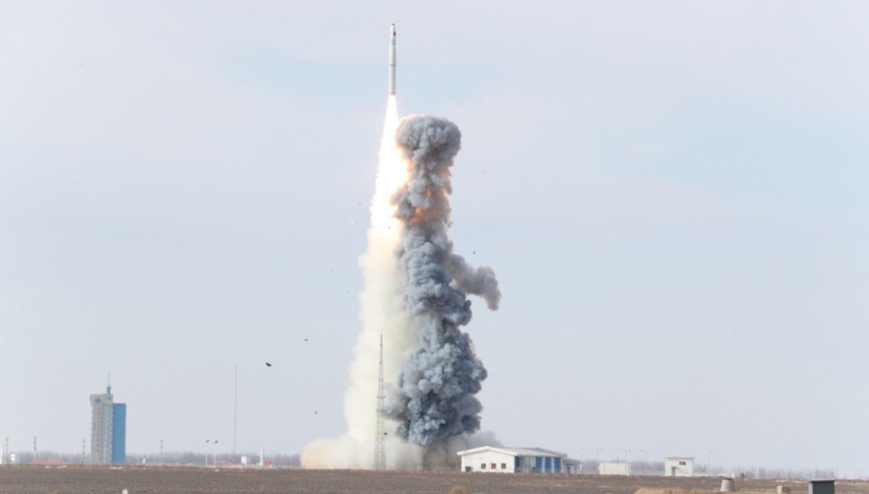 The Long March-11 rocket, a solid propellant carrier developed by China Aerospace Science and Technology Corporation, launches six small satellites into orbit from the Jiuquan Satellite Launch Center in northwest China on January 19. (Photo by Xie Shangguo from People's Daily Online)
China is planning its first sea launch of satellites by the Long March-11 rocket in 2018. The rocket, a solid propellant carrier developed by China Aerospace Science and Technology Corporation (CASC), succeeded in lifting six small satellites into orbit in January.

For missions with a low inclination orbit, a sea launch near the equator would be a preferred choice, said Tang Yagang, deputy director of the Department of Astronautics of CASC.

The Wenchang Space Launch Center, located 19 degrees north latitude in the southern province of Hainan, is the southernmost launch center among the four sites in China, he explained.

Launches in a lower latitude in the equator region are more fuel-efficient, and at the same time can enhance the load capacity of the carrier rocket, Tang pointed out, adding that it is a cost-effective option, but demands a more stable rocket performance.

The Long March rockets are expected to provide such services to international users in 2018, Tang said, underlining that the Long March-11 rockets could provide better, competitive services in space commerce.

Long March-11, the only series in the Long March family using solid propellants, blasted off from Jiuquan Satellite Launch Center in Northwest China on January 19, and put six satellites into orbit.

The launch was a milestone in its trial of commercial payloads. China is also working to tap the potential capability of its self-developed Long March-11 to meet the massive potnetial market demand for small satellites.

The year 2018 will see five launches of Long March-11 rockets, with four missions on land and one at sea.

As of the middle of 2017, the Long March family had provided 60 commercial launches for domestic and foreign clients in total.