By Zhao Zhanhui from People's Daily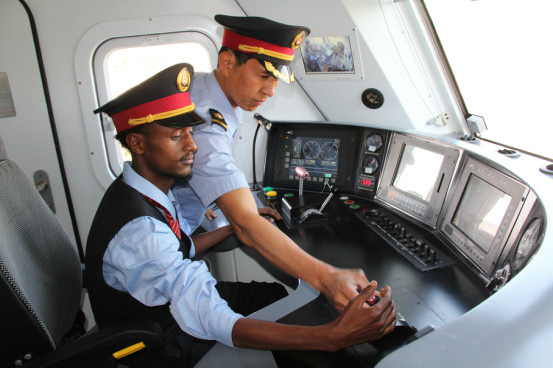 Connecting Addis Abeba with Djibouti-ville, Yaji Railway is the first cross-border electrified railway which uses Chinese construction standard. The Chinese company will be in charge of the first six years' operation. The picture shows a Chinese train driver is training an Ethiopian staff. Photo by Li Zhiwei from People's Daily
The made-in-China products and Chinese service are now gaining more popularity among the "Belt and Road" countries, and its manufactured rail cars and telecommunication services are proven to be representative name cards.

China has been committed itself to railway cooperation with countries along the "Belt and Road" since the initiative was put forward in 2013, Ning Jizhe, deputy head of the National Development and Reform Commission, said at a press conference on Friday.

He explained that the railway cooperation was prioritized by China to meet the demands of en-route countries because it is not only a prior transportation means to connect them together, but also what these countries are in shortage or in urgent need of.

An interconnected transportation serves as the precondition of connected "Belt and Road" routes, the official furthered.

A series of symbolic projects have reaped progress in recent years, Ning said, citing the China-Laos railway, China-Thailand railway and the Jakarta-Bandung high-speed railway in Indonesia as examples.

He elaborated that China-Laos railway has commenced construction, China-Thailand railway is under headway for a start, while the Jakarta-Bandung line is ready for a full-swing construction since the commercial contract has been inked.

As for the rail line linking Belgrade, capital and largest city of Serbia and Budapest, capital and most populous city of Hungary, the commercial agreement on Serbian section and construction contract on Hungarian section have been inked, he added.

Serving as important platforms to boost international collaboration on production capacity, these railway projects will help en-route countries improve their infrastructure, Ning emphasized.

Telecommunication connectivity has been improved as well. China has inked inter-governmental memorandum of understanding on telecommunication technology cooperation with Cambodia, Iran, Bangladesh, Afghanistan and other nations.

It also signed cooperation documents to build information highway in East Africa with five members of the East African Community, Ethiopia as well as International Telecommunication Union.

China, at the same time, provides high-quality telecommunication services for en-route countries by optimizing international communication accesses, expanding the coverage of cross-border cable, and encouraging the active engagement of domestic enterprises into global business.
Emphasis has been given to capital use and profit gains by both Chinese and other involved governments, Ning said, stressing that elaborate studies and discussion will be made to ensure the feasibility of the project.

He furthered that strict supervision and regulation was also launched when the project is constructed and operated.

The market-oriented direction, business principle and international conventions will be upheld when building the "Belt and Road" and launching international capacity cooperation, Ning said, adding that the companies play a main part in the process.

China, along with the en-route countries, will make sure that local public will benefit from the economic and social effects generated from the projects on route construction and international capacity cooperation, Ning pledged.

The involved countries will give a boost to their economic growth and social progress based on their persistence to investment agreements, he added.

China is expected to invest $120 billion to $130 billion in overseas market annually in the next five years, a considerable amount of which will flow to countries along the "Belt and Road" routes, said Ning.

These investments will bolster a steady recovery of world economy and facilitate trade and investment, he explained.

The official also expected that more investment agreements will be reached in the two-day Belt and Road Forum for International Cooperation to be started on Sunday.