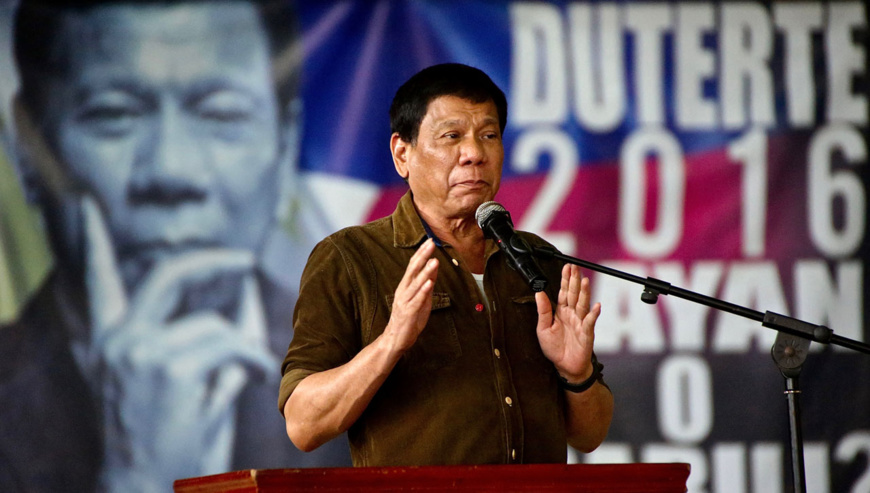 In Guns, Goons and The Presidency, yesterday's episode of Al Jazeera English's award-winning 101 East, presidential candidate Rodrigo Duterte was compared to Donald Trump and labeled "the Dirty Harry of Philippine politics" ahead of next month's elections.

As author Marites Vitug says, "He's the most outrageous, the most colourful and the most interesting character in this upcoming presidential elections. We compare him to Trump of the US because he likes to shock with his statements, he can be very irreverent, and very reckless."

As 101 East presenter Steve Chao says, "Rodrigo Duterte is far from your average politician… unapologetic about his professed love for women, guns and fast bikes."

His hometown of Davao City was once a violent no-go area, overrun by criminals. Now, with Duterte as mayor, it's the fourth safest city in the world, according to some surveys, unless you're considered a criminal.

While some celebrate the success of his zero-tolerance strategy, critics point to alleged human rights abuses, including extrajudicial killings, death squads and more than 1000 unsolved assassinations.

As inspector Ronald Lao tells Chao, "Criminals are hesitant to commit crime here because if they are not arrested, they are killed, especially if they are armed with firearms and attempt to shoot arresting officers."

Duterte has said that if he becomes president, he will "solve drugs, criminality and corruption in three to six months." When asked by Chao why he believes he's the only candidate who can clean up the country, he replies, "Because I am the only person to date to say it: stop it or I'll kill you."

Chao speaks to Clarita Alia, a mother whose four teenage sons were assassinated. Although there's no evidence Duterte was involved, she blames his vigilante approach to justice. "I don't want him to be president," she says. "So many have already died while he's been mayor; how many more will die under his presidency?"

Duterte says those who accuse him of human rights abuses should file a case against him. This has yet to happen, but it appears that his successful fight against crime has led to a wave of copycats in other cities. For example, Chao speaks to an active cell of assassins who claim that they're hired by police to take out 'undesirables' and that they were modeled on Duterte's approach in Davao.

For some, Duterte's approach brings back disturbing memories of President Ferdinand Marcos, who declared martial law in the 1970s in the Philippines. Over the decade, in the name of peace and order, tens of thousands were arrested and tortured, with thousands more killed. "What worries some observers is that Duterte has publicly described Marcos as the best president the country has ever had," Chao says.

As Vitug says, "If he [Duterte] has a penchant for dismissing judicial process, a penchant for doing swift justice, then what does that say for his regard for popular decision-making… for popular processes or democratic processes?"

When asked by Chao if his strong form of leadership could eventually lead him to take democracy away and push towards a dictatorship, Duterte says, "I do not have that messiah complex. You do not go about declaring martial law or a revolutionary government if there is really no reason to do it. But if the life of the Republic is at stake, then, maybe."

At 71, Duterte says he was ready to retire and spend more time with his family, but decided to run for president because the lineup of candidates are "corrupt and incompetent." As he says, "There is no cure for stupidity and incompetence."

Polls have Duterte as one of the top presidential candidates. In his 20 years in political office, he's never lost an election, so could he be the next president of the Philippines?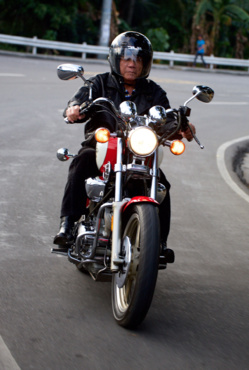 Watch and embed the promo: https://www.youtube.com/watch?v=izsol_5lJuY.

Watch and embed the full documentary: https://www.youtube.com/watch?v=7NrIcuBf7iU.

Guns, Goons and The Presidency repeats on Al Jazeera English on Sunday, 10 April 2016 at 18:30 CAT on 101 East, Al Jazeera's multi-award-winning, weekly current affairs programme focusing on a diverse range of stories and investigations from across Asia and the Pacific. For more information, visit http://www.aljazeera.com/programmes/101east/ or follow @AJ101East on Twitter.