By Liu Lingling from People's Daily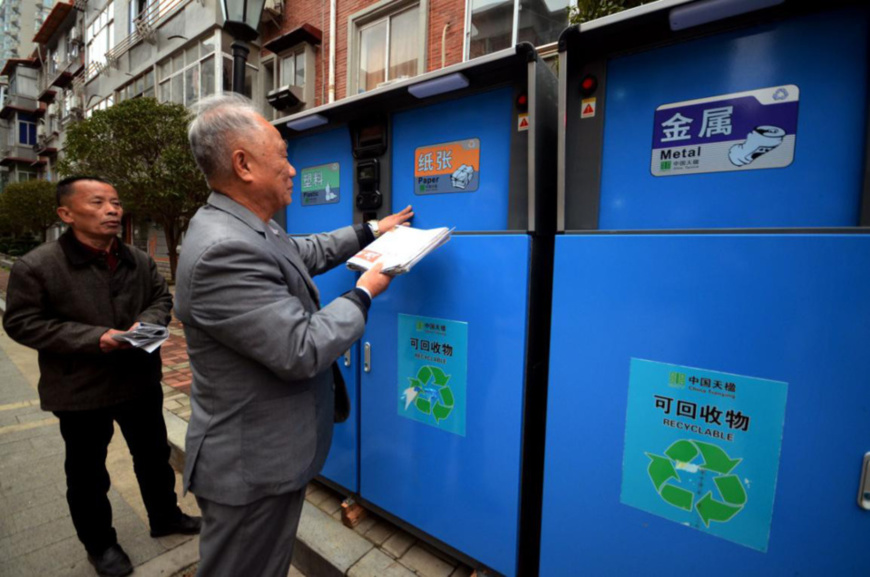 A resident throws rubbish into a garbage sorting can in Nanchang, east China's Jiangxi province, March 6, 2018. He will receive credits if he throws the trash into the right can, and the credits can be used to buy drinks, tissues and soaps. (Photo from CFP)
New technologies are accelerating China's path towards a beautiful country by giving a pushing hand to waste management and recycling systems, as more Chinese residents have realized the importance of sorting their garbage.

Garbage classification has grown into a systematic program nationwide since the country launched a pilot project on refuse classification in eight cities in 2000.

Over the past years, under the guidance of the new development philosophy, local governments have developed an "Internet Plus recycling" model, which integrates internet technologies and garbage classification with the recycle of renewable recourse.

Guangzhou and Shenzhen in southern China established app platforms for information management of garbage classification.

Last December, Qingdao in east China's Shandong province launched the first trial intelligent garbage sorting bin. The bin has helped raise residents' awareness of sorting trash by giving credits to them according to the weight of their trash.

A ton of waste paper can be made into 850 kilograms of fine new paper, and a ton of used glass can be processed into a piece of glass that equals the size of a basketball court, signifying the importance of waste recycling.

Jinhua City in east China's Zhejiang province launched a rural household garbage classification trial project in May 2014. Now, each household of the Suoyuan village, Jindong district in the city has two bins in different colors for garbage classification.

By the end of 2017, all the towns in Jinhua were covered by the project. The better environment has made lucid waters and lush mountains here become invaluable assets.

In the first three quarters of 2017, the agritainment families in the city received 19.9 million person-times of visitors, with the total operation revenue reaching 1.44 billion yuan (about $229 million), up 15.2 percent and 21.67 percent year on year, respectively.

New technologies have strongly pushed forward trash recycling, for instance, in promoting ecological agriculture. In the past, crop straw was burned, but now the agricultural waste is used to generate power with the help of biomass power generation technology.

In animal breeding, technological tools are often used by keepers and enterprises to process animal waste into organic fertilizers or source of power and marsh gas.

Because of the growing popularity of green development philosophy among the public, as well as emerging new technologies, more progress will be made in building a beautiful China.