By Zhong Sheng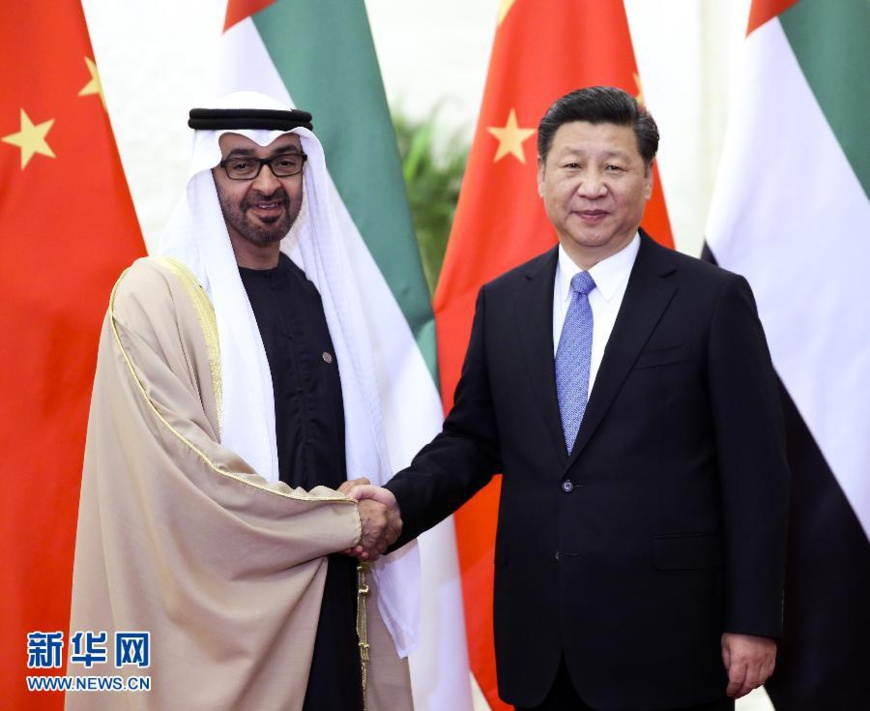 The United Arab Emirates (UAE), the "desert flower" situated at the southeast end of the Arabian Peninsula on the Persian Gulf, greeted distinguished Chinese guests coming from afar with "Chinese red" across its territory. The state visit paid by Chinese President Xi Jinping is the first by a Chinese head of state in 29 years to the Arab state.

During the Friday talks of visiting Xi with UAE Vice President and Prime Minister Sheikh Mohammed bin Rashid Al Maktoum and Crown Prince of Abu Dhabi Sheikh Mohammed bin Zayed Al Nahyan, both sides decided to upgrade their ties to a comprehensive strategic partnership.

They also agreed to strengthen their bilateral in-depth cooperation in various fields, and propel continuous development of bilateral ties on higher levels, in broader areas and at greater depths.

The UAE is Xi's first stop of this overseas trip, and also the first country he visits since his re-election as Chinese President.

The Arab country welcomed Xi and his delegation with a grand and solemn ceremony highlighted by 12 escorting fighter jets, spectacular fireworks, mighty horse cavalry as well as 21-gun salute.

Xi's visit is an important event of historic significance for the UAE as it means bilateral all-round cooperation will be ushered into a new phase, said Crown Prince of Abu Dhabi Sheikh Mohammed bin Zayed Al Nahyan, adding that it will bring prosperity to the two countries and peoples.

President Xi was conferred with the Order of Zayed, the UAE's highest civil decoration, by the Crown Prince, who also gave Xi an Arabian horse as present to extend a lofty respect for his visit. Arabian horses are given as diplomatic gifts to distinguished guests by the UAE's royal family.

China and the UAE are natural partners to co-construct the Belt and Road, since the China-proposed Belt and Road Initiative highly echoes the plan of rejuvenating the Silk Road raised by the Crown Prince.

Thanks to the Belt and Road Initiative, the UAE has been China's largest export market and the second largest trade partner in the Arab world for years, while China is the largest trading partner of the UAE. Both sides also enjoy a fruitful cooperation in energy, finance, production capacity and high-tech sectors.

Xi, in his signed article published ahead of the visit, called on China and the UAE to build a community of shared future in Belt and Road cooperation by working hand in hand as strategic partners who truly trust each other, collaborative partners who pursue win-win outcomes and mutual benefits, interactive partners who learn from each other, and innovative partners who champion result-oriented actions.

During his trip, both sides reached a consensus to beef up collaboration in politics, economy, finance, education, technology, renewable resources, water resources, oil, natural gas, military and law-enforcement security, consular affairs, facilitation of people-to-people exchanges, and implementation mechanisms of strategic partnership based on their newly-updated comprehensive strategic partnership.

The rich fruits yielded from the trip present the best answer sheet to China and the UAE's common aspiration for deepened bilateral all-round cooperation and bright future.

Xi's visit signifies an important step as the UAE seeks to build long-term economic, cultural, trade and investment ties with China, said Ali Al Dhaheri, UAE ambassador to China.

The UAE is now a role model of China and all the Arab countries to launch pragmatic, friendly, mutually beneficial and win-win cooperation with mutual respect.

During the eighth ministerial meeting of the China-Arab States Cooperation Forum held in Beijing days ago, Xi announced that China and the Arab countries had agreed to establish a "Sino-Arab future-oriented strategic partnership of comprehensive cooperation and common development."

Against such backdrop, an upgraded China-UAE relationship not only opens a new chapter for bilateral ties, but also injects strong energy into the construction of a community of common destiny and shared interests between China and the Arab world by giving full play to its modelling role.