By Zhang Tie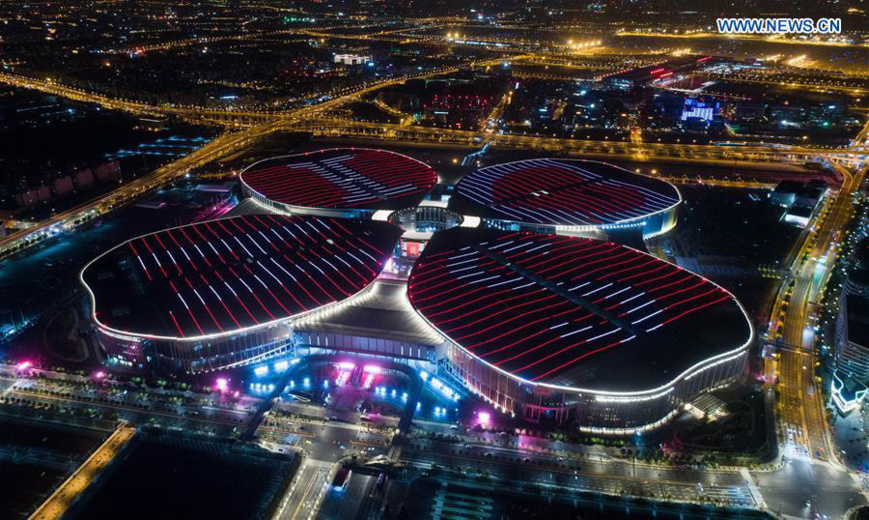 The National Exhibition and Convention Center (Shanghai), the main venue of the First China International Import Expo (CIIE) in Shanghai, east China. (Xinhua/Ding Ting)
Openness brings progress while seclusion leads to backwardness. Active integration into the world is a common characteristic of development for major economies.

According to a World Bank report released in 2008, 13 economies had achieved high-speed growth for at least 25 years in a row. Openness was a common feature of them, the report pointed out.

Opening-up injects strong support and energy into economic development as it offers a country more resources and bigger market, and allows it to take part in the global division of labor and cut costs.

A drop of water will not dry up as long as it runs into the ocean; a country will maintain its vitality as long as it integrates itself into economic globalization.

For a while, black swans and grey rhinos have frequently occurred, with some countries adopting protectionism or retreating to unilateralism, which hindered economic globalization.

However, history has proven that self-seclusion will only make a country lose the world and eventually itself.

As Chinese President Xi Jinping said at the APEC CEO Summit, attempts to erect barriers and cut the close economic ties among countries work against the laws of economics and the trend of history, and run counter to the shared desire of people around the world. This is a short-sighted approach and is doomed to failure.

For a long time, economic globalization has put together capital, technologies, products, industries, and labor force of different countries. Apple Inc once released a list, showing that it was cooperating with 769 suppliers across the world. It's fair to say that upholding openness and jointly building an open global economy conforms to the trend of times as well as the requirement to create more space for development.

Of course, economic globalization is a double-edged sword, because it both provides strong power for global development and brings new situations and challenges.

When the global economy faces downward pressure, it is hard to enlarge the benefits of economic globalization, and the contradictions between growth and distribution, capital and labor, and efficiency and fairness are more obvious. Both developed and developing countries will shoulder the pressure and impact.

This is an issue that the world has to face seriously, but isolation is never a solution. Only by saying no to protectionism and unilateralism and upholding the WTO-centered multilateral trading system, can countries expand converging interests and share opportunities through opening-up and cooperation, and make economic globalization more open, inclusive, balanced and beneficial to all.

The just-concluded first China International Import Expo (CIIE) was a grand get-together of enterprises around the world. Deals for intended one-year purchases of goods and services reached a total of $57.83 billion, indicating the huge market potential of China and the country's determination to open up.

This year marks the 40th anniversary of reform and opening up. During this extraordinary period, China opened itself to the world and created the globally remarkable Chinese miracle. The country will continue advancing an open world economy on a higher level and promoting openness of the world.