By Ding Xuezhen  From:People's Daily app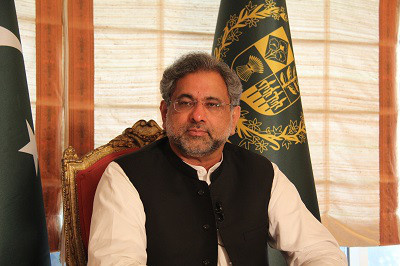 (Photo: Ding Xuezhen/People's Daily)
Islamabad (People's Daily) - Pakistan's Prime Minister Shahid Khaqan Abbasi stressed the urgent need for global openness as he expressed solidarity with China's vision of "building a community of shared future for mankind."

"Everybody is looking eagerly forward to President Xi's articulation of his vision that he will provide on the Boao Forum for Asia (BFA) and also the future role China will play in the world trade and the world economy," Abbasi told the People's Daily on Tuesday at his office.

The prime minister said that he will lead a delegation comprising cabinet ministers and senior level officials, which underscores the importance Pakistan attaches to the forum.

Chinese President Xi Jinping will deliver a keynote speech at the opening ceremony of the 2018 BFA, State Councilor and Foreign Minister Wang Yi said Tuesday morning.

The forum, scheduled for April 8 to 11 in Boao, a town in the southern island province of Hainan, will have the theme "An Open and Innovative Asia for a World of Greater Prosperity," which Abbasi praised as "not only pertinent but also timely."

With Asia becoming more integrated and countries in the region forging partnerships in diverse fields including economy, trade, technology, energy, ecology and social sectors, "Openness and inclusivity are indeed the need of the hour," he stressed.

Abbasi expected the forum to be successful in "generating informed and candid discussion on a wide range of issues towards forging a common vision for the Asian century."

He spoke highly of the Belt and Road initiative (BRI) as well as the China-Pakistan Economic Corridor (CPEC), calling it "a transformative project representing economic cooperation between Pakistan and China."

He said the BRI is "a truly global public good" as it is designed to impact positively a vast number of people living in geographically distinct areas but bound together by the dream of improved lives, and better access to roads, infrastructure, sustainable energy and better resources.

As the flagship project of the BRI, CPEC epitomizes the vision of the two countries for comprehensive and broad-based economic cooperation, said Abbasi.

"The energy projects conceived under CPEC have alleviated the energy crisis in Pakistan and we have been successful in adding thousands of megawatts of electricity to the national grid," he said.

CPEC energy projects have diversified Pakistan's energy mix with investments in the country's hydro, wind, solar and hydrocarbon energy sectors, which is also "a matter of satisfaction" for the prime minister.

The initial phase of the CPEC has done extremely well. A network of roads is under construction, and Gwadar port infrastructure is being developed, he noted.

"It has indeed been a game changer," he said.

Abbasi said that Pakistan is now looking forward to the next stage of CPEC development — setting up Special Economic Zones, which he believes will not only strengthen the economic and industrial base of the country but also generate thousands of jobs.

Early completion of the road and rail network and modernization and development of Gwadar Port are also expected to "transform Pakistan from an agrarian economy to a logistics' hub transporting goods from China to the region and the world."

CPEC will enhance Pakistan's connectivity not only with China but with Central and South Asia and beyond, said Abbasi, noting that it will expand bilateral and regional trade, promote economic integration, and foster economic development.

The prime minister also said that President Xi's concept of "Building a Community of Shared Future for Mankind" is "not only revolutionary but also ties in beautifully with CPEC."

"Together with China, we look forward to making Pakistan a major contributor to 'building a community of shared future for mankind' through CPEC," he said.