By Ding Zi, Wang Fang, Zhang Zhiwen and Zhao Yipu from People's Daily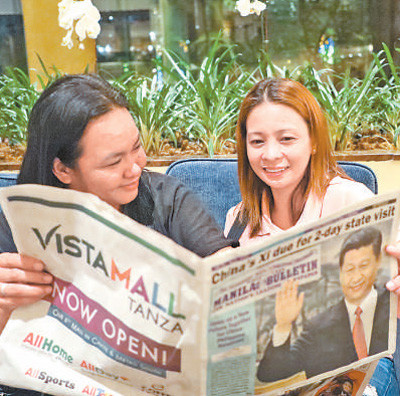 On Nov. 19, Chinese President Xi Jinping's published a signed article titled "Open up a New Future Together for China-Philippines Relations" just before his state visit to the country on three Philippine newspapers, Philippine Star, Manila Bulletin and Daily Tribune.

People's Daily reporters paid a visit to Manila Bulletin on Nov 19 to learn the stories behind the publication of Xi's signed article.

The article grabbed the front page headline of Manila Bulletin on Nov. 19. A big picture of Xi waving his hands and greeting was put at the top of the front page, and the article was placed to the left of the picture.

It was the first time for the Manila Bulletin, a 118-year-old newspaper to carry a signed article by a foreign state leader with picture.

"President Xi's article sparked heated discussion among us. We are proud to publish such an important article on our newspaper," said Isabel C. De Leon, news editor of Manila Bulletin, adding that many readers called to congratulate them after reading the article.

"I am really excited to be the first reader of the article," said Leon. By midday Nov. 19, the newspapers had been almost sold out at newsstands across the country. "Today's sales volume is surely much better than before!" she said with confidence.

"Philippines-China relationship is very important. China has always been helping our country, so we must attach high importance to President Xi's signed article," said Cris J. Icban, JR., publisher and editor-in-chief of Manila Bulletin.

Currently, more and more Philippine readers have realized the importance of boosting Philippines-China relations, and Manila Bulletin has increased its coverage on China.

"We are delighted to report China, which we think is consolidating the friendly relations between the two countries," Leon told People's Daily. The newspaper often publishes articles about China, especially about the Belt and Road Initiative.

Leon said the prospering Philippines-China relations have brought plenty infrastructure construction projects and investment from China. The Philippine people have benefited a lot from the friendly cooperation, she noted, believing that in the future the cooperation will deliver concrete benefits to the Philippine people.

In recent years, the newspaper has sent several reporters to China to cover major events. Amor A. Lopez was one of the Philippine journalists who attended the Media Cooperation Forum on Belt and Road hosted by People's Daily in Beijing last year.

Lopez recalled a guest from the UK mentioning that a China-Europe freight train carrying a full load of Chinese products could arrive in the UK from China in just 16 days, and then come back to China fully loaded with goods from the UK. He said the freight train is a proof of enhanced interconnectivity brought by the Belt and Road initiative.

"We are very pleased that Manila Bulletin could publish President Xi Jinping's signed article. It is an honor of the 118-year-old newspaper," said Sec. Herminio B. Coloma, Jr., former secretary of Presidential Communications Operations Office of the Philippines and Executive Vice President of Manila Bulletin, expressing his belief that Xi's article will help more Philippine people understand China and Philippines-China relations, and further promote cooperation between the two countries.