By Zhang Niansheng from People's Daily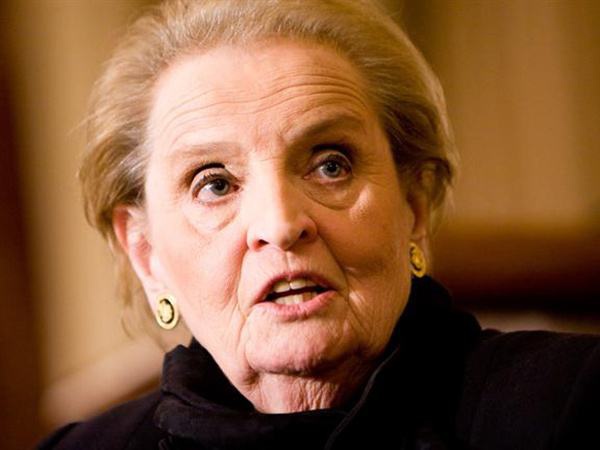 Despite of very different political and economic systems, as well as different cultures, China and the US should commit the energy and resources to maximize their cooperation in a series of fields, a US political heavyweight told the People's Daily in a recent interview.

"These vast differences could have kept us apart and led to hostile relations. In retrospect, it is remarkable that we have been able, for over 45 years, to maintain a focus on the mutual benefits of deepening our relationship, rather than our differences," Madeleine Albright, former State Secretary of the US stressed.

Her remarks came ahead of Chinese President Xi Jinping's upcoming US visit, during which he will meet with his US counterpart Donald Trump.

As a witness and contributor to the development of US-China relationship, the 79-year-old politician, also the first female US State Secretary, has been following the updates of bilateral interactions.

Back to March 28 of 45 years ago, Chinese and the US governments issued the Shanghai Communiqué, a document ended 20-plus years of diplomatic estrangement between the two countries. It also opened the door to normalize bilateral ties.

Albright believed that the 45th anniversary of the signing of the Shanghai Communique deserves celebration, as it was a historic event that ushered in an incredible period in the development of US-China relations—the most important bilateral relationship of the 21st century.

The document also placed positive and far-reaching impacts on the Asia-Pacific and world arena, the politician added.

Over the past 45 years after they signed the Shanghai Communiqué, China and the US have yielded historic progress from their ties despite ups and downs, bringing tangible benefits to the two peoples and contributing to regional and world peace, stability and development.

"I have visited China many times since 1977, and each visit has furthered my belief in the importance of building a strong and constructive bilateral relationship," she told the People's Daily, calling on the US and Chinese leaders to bear the sustainable development of bilateral ties in mind and avoid unnecessary conflicts.

"When there are differences, both countries need to state them clearly," she underlined.

So far, China has grown into the largest trading partner of the US, while the US is the second largest trade partner of China. Both sides have also scored new progress from their cooperation in military, network, people-to-people exchanges as well as local affairs.

"The US and China are capable of working in partnership on issues such as global economic growth and job creation, climate change, non-proliferation, regional issues, public health, and many others," Albright pointed out.

"In the past, for example, we have seen joint efforts on subjects as diverse as battling Ebola in Africa, cooperation on energy and environmental issues, and the Iran nuclear issue," she elaborated, saying that such cooperation reveals the strategic and global significance of China-US ties.

Commenting on the current bilateral relationship, the 79-year-old woman said that their economic relationship is among the most concerned topics.

"I am opposed to protectionist measures of all kinds and am hopeful they can be avoided in the US," she made clear her stance, adding that creating a more open trade and investment environment could defeat forces urging protectionism, strengthen bilateral relations overall, and create concrete benefits for the people of both countries.

Appreciating China's unremitting efforts and huge contributions to world's common development, Albright noted that both the Belt and Road initiative and the AIIB are focused on fulfilling the needs many countries have for improved infrastructure.

"Improved infrastructure can lead to enhanced trade and investment and better living standards for all," she explained.

But the politician at the same time stressed the importance of the "softer" infrastructure needs of good governance, healthcare, education, and transparency. "Only with a focus on such issues can improved physical infrastructure make its full contribution to people's wellbeing," she said at last.