(People's Daily Online)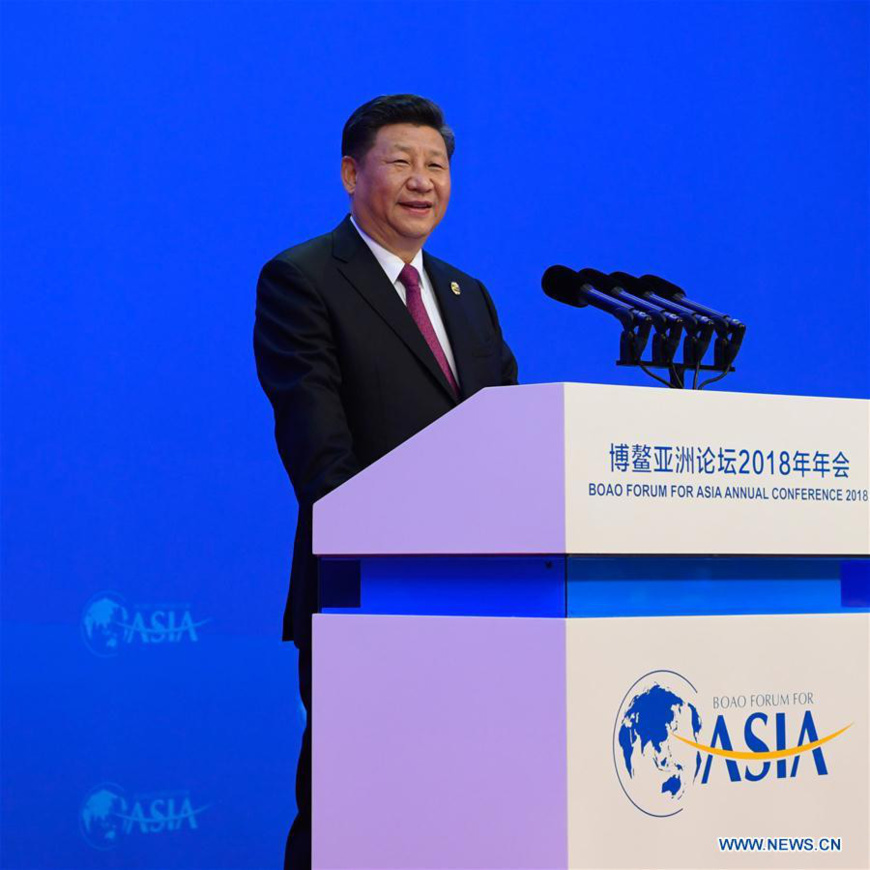 Chinese President Xi Jinping delivers a keynote speech at the opening ceremony of the Boao Forum for Asia Annual Conference 2018 in Boao, south China's Hainan Province, April 10, 2018. (Xinhua/Li Xueren)
Chinese President Xi Jinping promised to further open up China to the world at the opening ceremony of the Boao Forum for Asia Annual Conference 2018 on Tuesday.

To further widen market access

Late last year, China announced that measures would be taken to raise foreign equity caps in the banking, securities and insurance industries.

China will accelerate the opening-up of the insurance industry, ease restrictions on the establishment of foreign financial institutions in China and expand their business scope, and open up more areas of cooperation between Chinese and foreign financial markets.

On manufacturing, China has basically opened up this sector with a small number of exceptions on automobiles, ships and aircraft. "Going forward, we will reduce as soon as possible limits on foreign investment in these industries, automobiles in particular," Xi said.

To improve the investment environment for foreign investors

Likening investment environment to air, Xi said that only fresh air can attract more investment from the outside.

"China relied mainly on providing favorable policies for foreign investors in the past, but now we will have to rely more on improving the investment environment," he said.

"We will enhance alignment with international economic and trading rules, increase transparency, strengthen property right protection, uphold the rule of law, encourage competition and oppose monopoly," he said.

In March, China established a host of new agencies such as the State Administration for Market Regulation as part of a major readjustment of government institutions.

The purpose of this readjustment was to remove the systematic and institutional obstacles that prevent the market from playing a decisive role in resources allocation, and enable the government to better play its role.

Xi said that China will complete the revision of the negative list on foreign investment in the first half of the year and implement across the board the management system based on pre-establishment national treatment and negative list.
To strengthen protection of intellectual property rights.

IPR protection is the centerpiece of the system for improving property rights protection, and it will provide the biggest boost to enhancing the competitiveness of the Chinese economy.

"Stronger IPR protection is the requirement of foreign enterprises, and even more so of Chinese enterprises," Xi said.
China is re-instituting the State Intellectual Property Office this year to step up law enforcement, significantly raise the cost for offenders and fully unlock the deterrent effect of relevant laws.

"We encourage normal technological exchanges and cooperation between Chinese and foreign enterprises, and protect the lawful IPR owned by foreign enterprises in China," he said.

Meanwhile, China hopes foreign governments will also improve protection of Chinese IPR, the president said.

To take the initiative to expand imports

The country will work hard to import more products that are competitive and needed by the Chinese people.

China will also seek faster progress toward joining the WTO Government Procurement Agreement, according to the president.

China will significantly lower the import tariffs for vehicles and reduce import tariffs for some other products this year.
"China does not seek trade surplus; we have a genuine desire to increase imports and achieve greater balance of international payments under the current account," he said.

China hopes developed countries will stop imposing restrictions on normal and reasonable trade of high-tech products and relax export controls on such trade with China.

The first China International Import Expo to be held in Shanghai this November is not just another expo in an ordinary sense, but a major policy initiative and commitment taken of our own accord to open up the Chinese market, Xi said.