By He Yin, People's Daily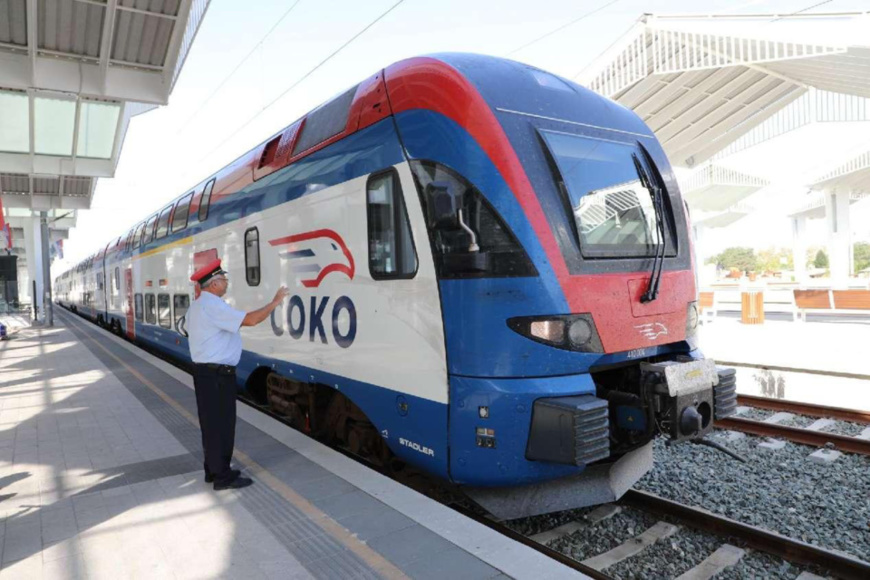 On the Serbian section of the Budapest-Belgrade railway constructed by Chinese companies, a train departs from Novi Sad for Belgrade. (Photo by Xie Yahong/People's Daily)
Global modernization should be pursued to enhance peaceful development and mutually beneficial cooperation and bring prosperity to all, said Chinese President Xi Jinping when addressing the opening ceremony of the third Belt and Road Forum for International Cooperation (BRF).

This grand vision is consistent with building a community with a shared future for mankind, and charts the course for high-quality Belt and Road cooperation.

The Belt and Road Initiative (BRI) has forged a cooperation platform for common development, and enabled many developing countries to accelerate their progress of modernization. In the future, it will get onto a new stage of higher-quality and higher-level development, and portrait a grand picture of countries working together for modernization.

"China is endeavoring to build itself into a stronger country and rejuvenate the Chinese nation on all fronts by pursuing Chinese modernization. The modernization we are pursuing is not for China alone, but for all developing countries through our joint efforts."

Xi's words explained the logic of "When China does well, the world will get even better," and revealed China's intention to seek win-win cooperation and common development in promoting the BRI.

To achieve modernization is a shared dream of people of all countries, and no country shall be left behind in humanity's modernization process.

The BRI, taking building a community with a shared future for mankind as the ultimate goal, is a path to modernization for all countries as well as a path to a bright future for humanity. With the initiative, countries can independently explore a path to modernization that suits their own national realities and share the opportunities created by Chinese modernization.

British scholar Martin Jacques said that Chinese modernization in essence is providing opportunities to the world, especially developing countries.

The BRI injects impetus into the realization of global modernization. Over the past decade, Belt and Road international cooperation has gotten off the ground, turning blueprints  into real projects. It has launched thousands of practical cooperation projects, and achieved fruitful and tangible outcomes.

From the massive infrastructure projects that vitalize participating countries' development momentum, to industrial cooperation aiming to enhance these countries' poverty reduction capabilities, the BRI focuses on tackling the bottlenecks containing participating countries' development and has contributed to the modernization of all countries.

At the opening ceremony of the third BRF, Xi announced eight major steps China will take to support the joint pursuit of high-quality Belt and Road cooperation. These steps include both concrete measures and long-term mechanisms, injecting new momentum into humanity's global modernization process with action-oriented, efficient and pragmatic efforts.

Foreign dignitaries commended the BRI for bringing opportunities to their countries' development. Some said the initiative effectively promoted Egypt's economic development and created important opportunities for developing countries, and some said the eight major steps will further assist Africa in achieving industrialization, agricultural modernization and economic integration. They are expecting high-quality Belt and Road cooperation to continue powering their countries' modernization process.

The BRI provides a path to realizing global modernization. Every country should adhere to the philosophy of solidarity, cooperation and common development in its pursuit of modernization, and follow a path of joint contribution, shared benefits and win-win cooperation.

The BRI always upholds the principle of extensive consultation, joint contribution and shared benefits. It has established a new framework for international cooperation, and blazed a trail for achieving global modernization that features peaceful development, mutually beneficial cooperation and prosperity for all.

During the third BRF, a total of 458 outcomes were achieved, further expanding the areas of BRI cooperation. China will promote local employment through cooperation projects and carry out 1,000 small-scale livelihood assistance projects. These important measures, once implemented, will surely promote the modernization process of relevant countries.

Zamir Ahmed Awan, founding chair of Islamabad-based think tank, the Global Silk Route Research Alliance, believes that the BRI, emphasizing inclusiveness and openness, helps the Global South achieve economic growth and sustainable growth, and helps developing countries accelerate modernization.

Belt and Road cooperation pursues development, aims at mutual benefits, and conveys a message of hope. To promote such a great undertaking that benefits the people of participating countries, it is important to stay focused on the goal, take results-oriented actions, persevere, and keep moving forward until the goal is met.

China will work with relevant parties to continue deepening Belt and Road partnership, promote high-quality Belt and Road cooperation, and make unremitted efforts to advance global modernization.