By Bai Yang from People's Daily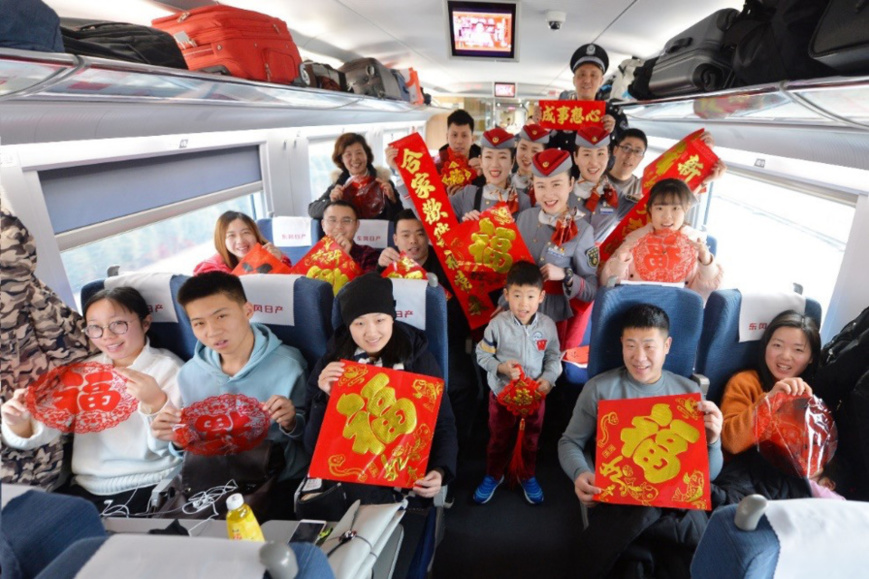 Crews and passengers on G182 high-speed train from Qingdao to Beijing celebrate the Spring Festival on the last day of lunar new year, Feb. 15, 2018. (CFP photo by Wang Haibin)
Railway remains the most popular transportation in China by handling over 380 million passengers during the 2018 Chunyun, a 40-day Chinese New Year travel rush ending on March 12.

A record of 2.97 billion passengers travelled during Chunyun, a figure equal to a sum of at least a round trip for each Chinese or a single travel to China by all population of Africa, Americas, Europe and Oceania.

The daily railway passenger volume surpassed 10 million for 11 days in succession during the holiday travel rush and marked a new high on March 4 with over 12.84 million passengers.

Chinese railway authorities drew up a series of plans to relieve the pressure of large passenger flow. High-speed rails scored high punctuality rates of departure and arrival at 99.1 and 96.1 percent respectively.

In addition, China's railway system was equipped with information technologies to provide customized services for passengers across the country.

Passengers in the railway station of Shenyang, northeast China's Liaoning province can order food, book seat and search information on its official smartphone app.

The technologies introduced by Beijing station allows the passengers to easily locate the waiting room or report the loss of ticket by GPS or blue tooth after entering the entrance.

Without having to fetch the paper tickets, passengers in Shanghai's Hongqiao Railway Station can use e-tickets by swiping the ID card for a quicker pass.

Moreover, passengers from poor areas found it much easier to take trains or book tickets thanks to the pre-arrangement made by the rail departments based on big data analysis.