Source:Global Times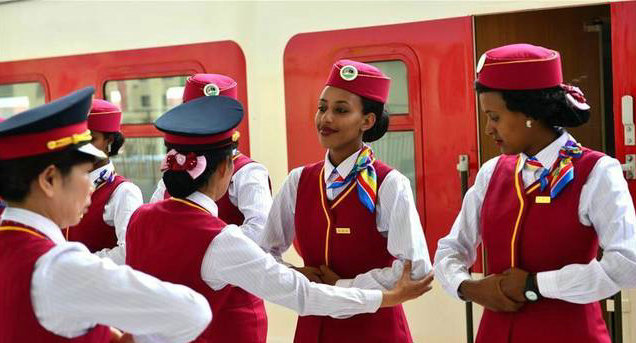 ​Sun Haichao, former Chinese ambassador to the Central African Republic and a member of the Foreign Affairs Committee of The Charhar Institute

Chinese President Xi Jinping once said that China will adhere to the principles of its African policy: sincerity, practical results, affinity and good faith. The policy is a fair summary of China-Africa relations and a prospect of the future, and is warmly received by African countries.

The West hopes Africa stay backward and mired in chaos so that so that it would be easier to control. African countries don't want Africa to develop too fast as they want to save Africa's resources for decades or hundreds of years. China's attitude toward Africa is totally different. China is working hard to help Africa develop.

The West is vigilant about China's increasing influence in Africa and is accusing China of plundering the continent's resources, saying that African countries over-rely on China's loans. However, the West's neocolonialism is still controlling Africa politically and plundering it economically.

US Secretary of State Mike Pompeo once said he expected "an Africa that has interests that are much more closely aligned to those of us here in the West than in China." The China model has achieved huge success since China's 40 years of reform and opening-up, which worries Western countries. Thus, they created the "China threat" theory.

China is Africa's biggest economic partner because both sides have the need. Without China's help in Africa's economy, the continent would be much more backward now. A stable relationship between China and Africa is a contribution to world peace and development. Africa wants to draw experiences from China and is willing to participate in the Belt and Roadinitiative (BRI).

The relationship with Africa is an important part of China's foreign relations, and the FOCAC is the most effective mechanism between the two. Our pragmatic cooperation is completely different from the West's relations with Africa. 
Cheng Tao, former director-general of the Department of African Affairs at China's Ministry of Foreign Affairs and a member of the Foreign Affairs Committee of The Charhar Institute
China and Africa have no disputes with regard to ideology, geopolitics, territory or culture. African countries approve of the BRI, especially its principle of achieving shared growth through discussion and collaboration. I believe that all the developing countries agree with the principle. Africa also appreciates China building a new type of international relations and a community of shared future for mankind. That's the base of the friendship between China and Africa.

African people are trying to pull themselves out of poverty and walk on the path of industrialization and agricultural modernization. They want to draw lessons from China, which is also willing to share its own successful experiences and seek a path that is in line with the conditions of African countries.

The Communist Party of China in Dialogue with World Political Parties High-level Meeting was held in Beijing in December 2017, and was attended by over 50 African countries. It aimed at sharing the experience on governance and seeking win-win cooperation. Many effective ways have been accepted and understood by African people, such as "better roads lead to better life," and the benefits of setting up special economic zones and economic development zones. Many African countries are sending senior officials and experts to China to learn from China's experiences.

China-Africa relations are facing new challenges. For example, many African people believe that China has become a developed country and have higher expectations of aid. They confuse Chinese companies' investment in Africa with grants. Investment needs pay back. Besides, some Chinese companies and people violated local rules, damaging the image of Chinese people. Another problem is that many Chinese people misunderstand Africans or are prejudiced against them.
​Long Xiaonong, professor at Institute of Communication Studies, Communication University of China
China can use non-governmental organizations (NGO) to do away with the shortcomings of China-Africa public diplomacy. China's NGOs can cooperate with the ones in Africa to promote African people's livelihood, which will be the foundation of China-Africa comprehensive strategic and cooperative partnership. It is a smooth way of conducting diplomacy.

The Chinese government needs to support local NGOs in Africa and let them speak for China and spread Chinese values and the Chinese path. China should also encourage its NGOs to put down roots in Africa, as it will improve the country's image in the continent. Chinese NGOs went to Africa before, but they only stayed there for a short time. I'm happy to see that The Charhar Institute set up its office in Mauritius, an Africa country. That's remarkable progress. Besides, Western NGOs have accused China of neocolonialism in Africa. If NGOs from China and Africa can cooperate, it will eliminate the bad vibes to some extent.

The influence of China and the China model has been increasing in Africa, and the West is worried about it. Western countries have been saying that China has destroyed Africa's environment and didn't respect people's human rights during investment, regarding China as a threat. They also claimed that China was supporting dictatorship in Africa, such as in Zimbabwe. When facing Western NGOs' criticism, China's NGOs either remained silent or relied on their government or media to clarify. 

Besides, African NGOs have been influenced by the West. If there aren't any Chinese NGOs to communicate with them, it would not be in the fitness of things.