By Xie Yahong from People's Daily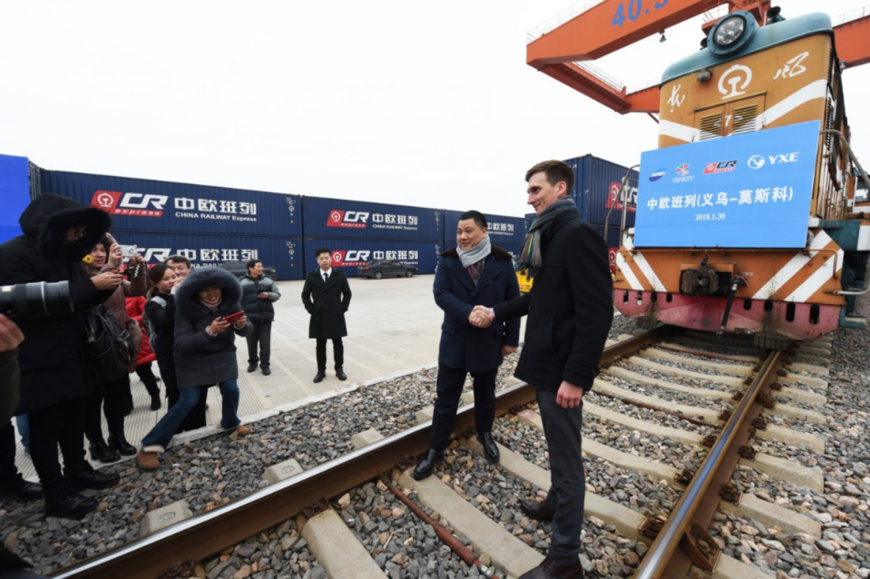 Photo shows the Chinese and Russian operators of a China-Europe freight train who are giving interviews to media. The freight train, loaded with 100 standard containers of small commodities, left Yiwu, Zhejiang province, Jan. 30, 2018. It would travel 10,150 km via Manzhouli, Inner Mongolia Autonomous Region and reach Moscow in about 13 days. (Photo by Gong Xianming from CFP)
"Sky is the limit for Sino-Russian cooperation," Chinese Foreign Minister Wang Yi told a press conference at the first session of the 13th National People's Congress on Thursday, expressing strong confidence in the future of bilateral relationship.
He added that there is always room to make the relationship even better.
Wang made the remarks when responding to a question on Russia's presidential election and China-Russia ties raised by journalist from RIA Novosti.

Russian President Vladimir Putin has overseen important strides in Russia's development and he has strong support from his people, Wang noted, expressing his belief that Russian people will again make the right choice and advance steadily towards national revitalization.
"We have great confidence in the future of China-Russia relations," the minister said, explaining that such confidence comes from the strong friendship and trust between the two presidents, which is fundamental to the further growth of bilateral relationship.
"It also comes from the deepening of our cooperation in so many fields, our firm support for each other's core interests, our close coordination on international affairs and the growing exchanges between our two societies," the minister furthered.

"In short, the China-Russia comprehensive strategic partnership of coordination is as unshakable as a mountain," he stressed.

China and Russia, both major countries, have maintained a close interaction on the international stage. The two countries, as comprehensive strategic partners of coordination to each other, have witnessed frequent meetings between the two heads of state and established a regular meeting mechanism between Chinese Premier and Russian Prime Minister.

Fruitful results have been yielded from bilateral cooperation in multiple fields including economy and trade, culture, science and technology. In addition, the two countries render firm support to each other on issues concerning each other's core interests such as sovereignty, territorial integrity and security.