From:People's Daily app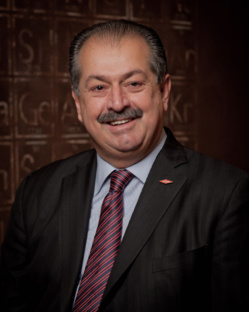 Andrew Liveris, Executive Chairman of DowDuPont and Chairman and CEO of The Dow Chemical Company, sat down for an interview with the People's Daily and discussed about a range of topics, from US-China collaboration to corporate cooperation. 
On US-China cooperation: Both countries have seen that success for one means an opportunity for the other. 
PEOPLE'S DAILY: How important is China-US cooperation in your experience? What are the prospects for China-US cooperation? 
LIVERIS: The US and China have obviously grown into important partners in trade and other areas. While the two countries have been competitors in certain respects, over time, both countries have seen that success for one means an opportunity for the other, and vice-versa. 
I think both presidents are building a solid foundation from which to build a stronger relationship. The US.and China have an unprecedented opportunity to quickly improve on the most critical commercial impediments to enhanced trade – investment restrictions, discriminatory regulatory practices, and inefficient licensing procedures, to name a few. Bilateral solutions to these issues will benefit both countries by creating jobs and economic value on both sides of the Pacific. 
We are clearly working together on an action plan for progress, removing artificial barriers to trade and investment. I am hopeful we can continue to advance these efforts to ensure that both of our economies will grow on the basis of collaboration and constructive competition. 
PEOPLE'S DAILY: The 19th National Congress of the Communist Party of China has just ended, which stressed the importance of innovation and openness. How do you think the US manufacturing sector should respond to China's economic development to promote enterprise transformation and innovation? 
LIVERIS: All kinds of evidence show that the US benefits when Chinese businesses prosper – when Chinese companies create innovations that benefit us all, provide lucrative opportunities for partnerships with American companies, and help build greater domestic consumption in China for our products and services. And the same is true in return: American business success is good for China, too. 
With that in mind, there are a few areas we can work closely together on: First, we need to streamline regulations across the world so that procedures are fair, governments or companies can't discriminate or cut corners, so no company becomes a casualty of a needlessly complex global regulatory environment. Regulations should be simple and transparent, based on sound science, and efficient enough to prevent cross border divergences. Only when this is done will we have true balanced and fair trade between economies. 
Second, we need businesses and governments to work together to craft policies that incentivize innovation and collaboration. It is not only natural resources and financial capital we should be drawing on; intellectual resources and human capital are even more important. For instance, when Dow built our presence in China, we did not simply import the brainpower we have at our headquarters in Midland, Michigan. We have approximately 1,300 scientists across the Asia-Pacific – almost half of them in China – and have partnered with major Chinese firms like Vanke and Haier to contribute to China's growing innovation ecosystem. We need both nations to build a policy environment that encourages not only imports and exports, but more comprehensive cross-border partnerships. We need efficient enforcement to ensure that intellectual property is respected and protected. 
Third, and perhaps most importantly, we need to invest in re-educating and re-training our workforces for the jobs of the 21st century. Jobs will continue to get more technical as globalization and digitalization advance. We are already seeing these jobs go unfilled because our populations are unprepared. Addressing this will require us to pursue unconventional solutions. In the US, we are looking into revamping apprenticeship programs, creating more technical two-year college programs, and developing a national skills certification so that employers have assurances that their workers are qualified, even without a four-year degree on their resumes. 
On corporate cooperation with China: Chinese government's call for a higher level of technology and innovation, industrial upgrading, and environmental protection will bring more opportunities for Dow. 
PEOPLE'S DAILY: China is implementing its "Made in China 2025" strategy. In your opinion, where does Dow Chemical Company fit in? 
LIVERIS: Dow advocates advanced manufacturing around the world. We are driving innovation that extracts value from the intersection of chemical, physical and biological sciences to help address many of the world's most challenging problems. Dow is looking forward to becoming a partner of China in "Made in China 2025" by enabling our customers in China to excel in domestic and global markets. China has been effective in supporting manufacturing by nurturing high-end manufacturing, building state-of-art infrastructure, developing engineers, and driving innovation. We are excited about China's "Made in China 2025" strategy, which will accelerate the transformation of China from a BIG manufacturing power to a STRONG manufacturing power, from a high volume manufacturer to a high value manufacturer of goods that create a sustainable society. 
We have taken note of the Chinese government's commitment to make the programs of "Made in China 2025" equally accessible to foreign investors. 
PEOPLE'S DAILY: Dow has been investing in China for many years.  What's has been your company's most significant investment? With regard to access and  and an open market, what does China need to improve on?
LIVERIS: Dow entered the China market in the 1930s, and China has become the company's second largest overseas market. Dow operates 10 business centers, 17 manufacturing sites and has nearly 5,000 employees across China. The Shanghai Dow Center, which opened in 2009 in the Zhangjiang High-Tech Park in Shanghai, is the business and innovation hub for Dow in the Asia-Pacific. It's also Dow's largest integrated R&D center outside of the US, bringing together R&D expertise with market-focused application development. The center has approximately 600 highly skilled scientists working at more than 100 world-class laboratories.
The Chinese government is calling for a higher level of technology and innovation, industrial upgrading, and environmental protection, which will bring more opportunities to industry leaders like Dow to work with companies based in China to innovate and grow. 
President Trump has taken a similar approach in the US – even on the domestic agenda, you can see a clear focus on the most critical elements that hinder business growth – taxes, regulatory practices, energy security. Now that we are also focusing on trade, both sides should identify the most critical commercial impediments – investment restrictions, inefficient regulatory practices, discriminatory licensing procedures, and more. 
Success breeds success – which means if we can achieve a few of these tangible wins for both the American and Chinese economies, we can then focus on the longer-term structural impediments that artificially constrain more cooperation in our commercial trade. 
On China: China's efforts will generate opportunities for businesses throughout the globe. 
PEOPLE'S DAILY: In 2015, you spoke to Chinese President Xi Jinping. What's your impression of him? 
LIVERIS: I was lucky to have a front-row seat thirty years ago when the late leader Deng Xiaoping opened China to the world. And in the decades since, I have had the privilege of participating as China's rise has transformed not only China, but the rest of the global conomy.
President Xi is a remarkable leader, with a strategic mind and a clear vision of where he wants China to be in the near- and long-term. His China Dream vision and Belt and Road initiative are examples of his extraordinary mind. 
Overall, I think China is on a great trajectory under President Xi. China's economy is accelerating its pivot to the domestic sector, transitioning from being an exporter of basic materials to a creator and consumer of high-tech goods and products. These efforts will enable China's economy to continue to progress and grow, generating opportunities for businesses throughout the globe. 
At Dow, we have chosen to be part of this transformation and are committed to supporting China with innovation while also demonstrating how to grow the demand side. Of course, innovation does not happen in a vacuum. Our ability to continue developing differentiated, sustainable solutions will depend on the government's willingness to create an atmosphere conducive to innovation - friendly to  the entrepreneurial spirit and founded on mutual trust. 
I have conveyed directly to President Xi that he can count on Dow's partnership as China embraces regulatory reform, and as they develop clear, rational rules of the road. Because Dow, like China, is focused on the future we can build together.