People's Daily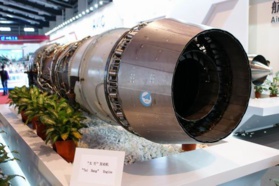 Chinese experts have denounced speculation by foreign media that the country's best warplane engine may pose safety risks.
"Judging by the performance and application of the WS-10A Taihang engine, it's unlikely that potential hazards such as explosions will occur during flight. If such safety loopholes do exist, the government will definitely recall the engines without risking the lives of pilots," a military expert from the National University of Defense Technology told Science and Technology Daily in an interview.
The expert, Wang Qun, made his remarks after a Russian news website accused the WS-10A Taihang engine of being a copy of Russia's AL-31F. According to the report, China tried to raise the engine's operating temperature to 50 degrees Celsius, but due to its inability to produce complex single-crystal blades, the engine could explode at any time during flight.
"There is a moon-to-earth distance between Taihang and the AL-31F," read the report. Wang, however, disagreed.
"It's true that China's engine technologies lag behind those of its Western counterparts, but it's not objective to belittle Taihang's performance. Thaihang's disadvantages lie in its lifespan, reliability and stability; otherwise, the gap between Taihang and more advanced engines is not that big," said Wang.
"Conservatively speaking, China reached the level of developed countries in the '90s, as far as engine manufacturing goes. The country has already made great achievements, and will soon catch up to its Western counterparts," Wang added.
First launched in 2005, Taihang engines have been deployed by the People's Liberation Army Air Force in five air force regiments. Various fighter jets are also equipped with the engine, including the J-11B and J-15 carrier-based fighter jets. So far, there have been no crashes due to engine failure among fighter jets equipped with Taihang engines.