By Wang Hailin, Zhao Shan from People's Daily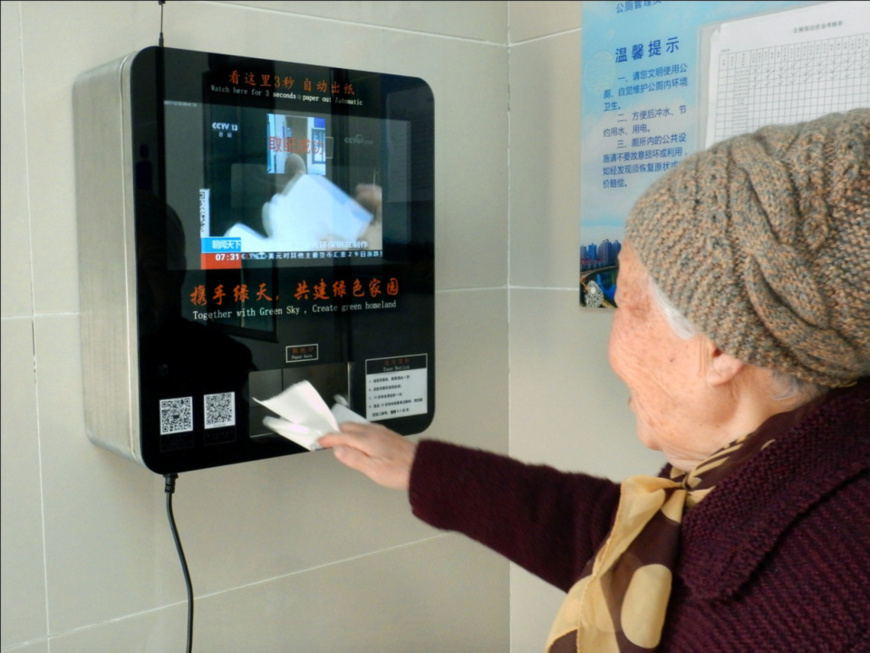 A resident scans her face for toilet paper at a public restroom in Nanjing, capital of east China's Jiangsu province, December 23, 2017. The newly-established facial recognition machine attracted many curious citizens to experience. (Photo from CFP)
Nationwide innovations in toilet technologies are offering strong support to China's "toilet revolution" campaign. Toilet civilization has gradually formed across the country, and the citizens and tourists' satisfaction with the country's toilets increases noticeably.

"Toilet revolution" is now a buzzword in China. Tourists won't feel very surprised if they walk into a toilet that greets them with music, is decorated with green plants and even has a smart monitoring system.

Thanks to toilet revolution, many new types of toilets, such as water- and energy-saving toilets, anti-freezing and self-deodorizing toilets, and convenient,comfortable and user-friendly toilets emerged one after another.

The toilet issue is no small thing, it's an important aspect of building civilized cities and countryside, Xi Jinping, general secretary of the Central Committee of the Communist Party of China, pointed out previously.

Toilet revolution should be carried out not only in scenic areas and cities, but also in rural areas, Xi said, stressing that this work should be advanced as a specific task of rural revitalization and such shortcomings that affect the quality of people's life should be filled with great efforts.

A national toilet revolution meeting was held in Zhengding County, north China's Hebei province on Feb. 23.

A cleaner toilet had already been on Xi's agenda when he worked in Zhengding in the early 1980s. Back to those days, he led the county to renovate open pits next to pigsties and proposed a strategy of invigorating the county by tourism.

The county's tourism, thanks to his efforts, drove the tertiary industry, served the provincial capital and finally made Zhengding the nearest travel destination to the provincial capital Shijiazhuang.

In 2015, China National Tourism Administration (CNTA) launched a three-year action plan for toilet revolution. By the end of 2017, about 70,000 toilets at tourist sites were built or renovated, overfulfilling the plan to construct 57,000 toilets within three years by 22.8 percent.

In this year, 24,000 restrooms are planned to be built, renovated or upgraded, and in the next three years, 64,000 new ones will be constructed at nationwide tourist sites.

"Toilet revolution", first proposed by the United Nations International Children's Emergency Fund (UNICEF), is an important measure to improve sanitation in developing countries across the globe. Toilets are an important indicator to measure civilization, and improving toilet sanitation is directly related to public's health and the environment of the developing countries.

Currently, China's toilet revolution has reached 3,000 nationwide 4A level and above tourist sites, expanded to over 370 major tourism cities and 500 national-level demonstration tourism destinations.

Under the campaign, southwest Tibet Autonomous Region and northwest Qinghai province have adopted biological ways to process water at tourist sites in remote and plateau areas. Xinjiang and Ningxia have introduced automatic flushing and washing facilities, as well as biological technologies for water processing, at tourist sites with scarce water resources.

To solve the difficulty of finding a toilet, the CNTA launched a toilet-finding platform on one of the country's most popular GPS applications Gaode Map, allowing tourists to see all public toilets within two kilometers of their locations.

The service includes location and direction information for nearly 500,000 public toilets, and that number is expected to reach one million by the end of this year.