By Huang Peizhao, Qu Xiangyu and Han Xiaoming from People's Daily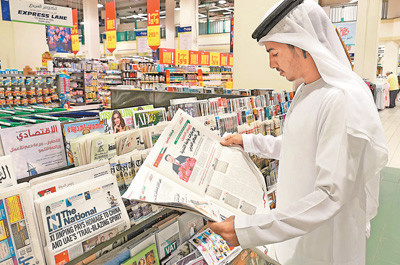 A local resident reads Chinese President Xi Jinping's signed article published on Al Ittihad at a shopping center in Abu Dhabi, the United Arab Emirates (UAE), July 18, 2018. (Photo by Qu Xiangyu from People's Daily)
Chinese President Xi Jinping's signed article in two national newspapers in the United Arab Emirates (UAE) demonstrates China's policy of cooperating with the UAE, said editor-in-chief from one of them, saying they feel extremely honored to publish the article that is rich in content and profound in thought.

The article, titled "Working Hand in Hand for a Better Future," was published Wednesday in Al Ittihad and The National, two mainstream newspapers in the UAE, a day before Xi's state visit to the Arab country.

Mohammed Ibrahim Ahmad Al Hammadi, Editor-in-Chief of Al Ittihad, added that it is the first time for the newspaper to publish an article of a foreign leader in full text.

The newspaper, publishing the article in a full front page, also contains photos of President Xi and a review to his signed article. The headline of the article is in bold, and the body is divided into several parts, with each part having a sub-title and a summary.

This is for the readers' convenience, so that the locals can easily understand the views elucidated by President Xi in the text, he explained.

The working team warmly welcomes President Xi's visit and feels proud of publishing his signed article, Ali Bin Tamim, director general of Al Ittihad noted, saying that they recently devoted pages to cover China's development achievements in all aspects to create a friendly atmosphere for Xi's visit.

"This is a great honor of our newspaper," said Laura Koot, Managing Editor of The National newspaper of the UAE, when talking about Xi's signed article on his newspaper.

Founded ten years ago, The National is not only a leading English-language newspaper in the UAE, but also a window for foreign readers to get information about the UAE and other Gulf countries.

With daily print circulation reaching 65,000, the newspaper's online version receives about 10 million views each month. Nearly half of its readers are native English speakers outside the Gulf region.

Xi's signed article covers two thirds of the layout, with a bold guide on the front page. "Our newspaper seldom makes banner headlines for signed articles", said an editor in charge of the newspaper's editorial page.

The National made blanket coverage of Xi's visit in recent days, with a front-page article titled "Foundations of a great friendship" covered more than two pages on Tuesday, illustrating the detailed history of the official friendly visit to China paid by the UAE founding President Sheikh Zayed in 1990.

Besides, the middlemost two pages of the Tuesday newspaper was occupied by an editorial titled "Xi Jinping's state visit will herald a new dawn for the UAE-China relationship" and an expert's article called "Make no mistake, China's Belt and Road initiative is a huge opportunity."

"Xi's visit is no doubt the biggest news in the UAE recently," a local journalist told People's Daily.