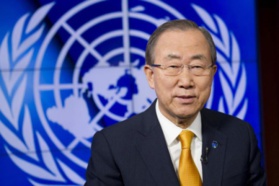 By Yin Miao from People's Daily

UN Secretary-General Ban Ki-moon on last Friday praised China's efforts in focusing the upcoming G20 summit on promoting green growth and bolstering the presence of developing countries.

Ban made the statements in an interview with several UN-based Chinese media outlets ahead of his attendance at the G20 Summit to be held in early September. The upcoming visit will be his second tour to Hangzhou in this year and also his 11th trip to China as the UN Secretary-General.

Ban commended China for steering the G20 summit this year in such a successful way, leading the G20 towards an action agenda that will come in full support of the 2030 Agenda for Sustainable Development and the Paris Agreement on Climate Change.

This is the first time in G20 history to align the Sustainable Development Goals and the climate change agreement in its action agenda, he noted, hoping both the 2030 Agenda for Sustainable Development and the Paris Agreement can be translated into tangible actions.

The theme of the G20 summit, namely "Towards an Innovative, Invigorated, Interconnected and Inclusive World Economy," reflects the very spirit of the 2030 Agenda for Sustainable Development, Ban said.

He also praised China for inviting heads of state and government from developing countries such as Thailand, chair of the G77, Chad, chair of the African Union, and Laos, chair of the Association of Southeast Asian Nation, to join the discussion, believing it will take the G20 summit to another level of inclusiveness.

The UN chief said that as representatives of the largest and most resourceful economies in the world, the G20 members should also show the resolutions to resolve global financial end economic obstacles.

He pointed out that to cope with current global economic difficulties brought by sluggish recovery, lackluster investment, fatigued demand and rising unemployment, the G20 leaders should discuss on how to address those roadblocks and other global governance issues, in which process the UN will engage in.

China, whose economy is undergoing a rebalance, has showed leadership in this aspect, Ban said, adding that he expects China to demonstrate leadership again in the Hangzhou Summit.

Ban also appreciated the leadership demonstrated by China, as the host country of the summit, in coping with climate change, a part of the 2030 Agenda for Sustainable Development.

He said as the international community is accelerating the ratification process of the Paris agreement, it is the first year that the G20 leaders are gathering to discuss the Sustainable Development Goals and climate change as well as how to implement them in parallel. At present, 22 countries have already ratified the Paris Agreement, Ban said.

Expressing his gratitude to China for promising to finalize domestic legal procedure needed for the ratification of the pact before the G20 Summit, Ban described China's action as encouraging. He hoped that the other countries, particularly G20 countries, will follow the Chinese leadership.