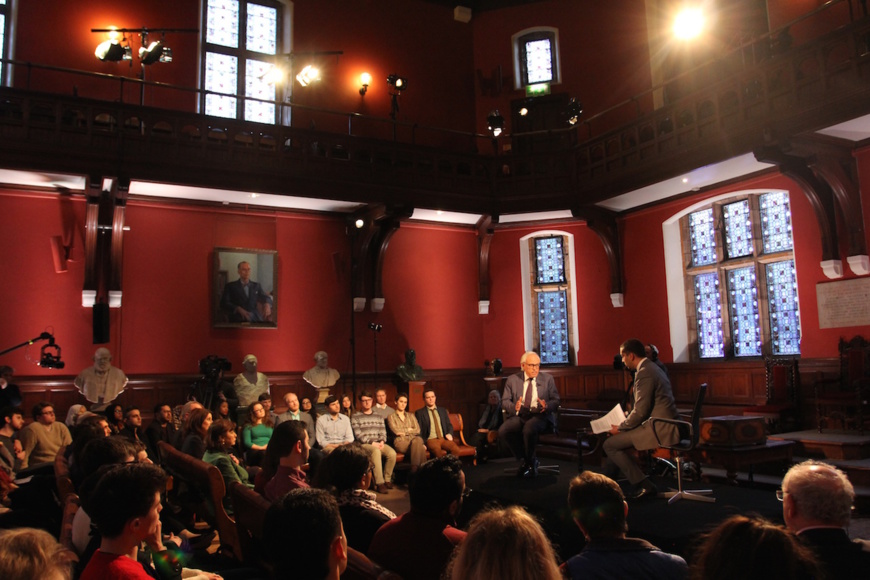 Martin Indyk, former US special envoy for Israeli-Palestinian negotiation and a key player in US-Israel relations for over 30 years, has said the United States is "not neutral" and that it doesn't "claim to be neutral" in negotiations with the Palestinians. He also said he does not think "anybody is under any illusion that the United States is in Israel's corner. We don't hide that… We shout it from the rooftops."

He also argued the US's position is "not inconsistent" with being an honest broker, although this might be "hard to accept."

When challenged by Head to Head presenter Mehdi Hasan about whether the US plays "Israel's lawyer," Indyk admitted, "There were times when we did," but reflected it is "not a role that we should play."

He defended his role as chief negotiator during the 2013-2014 Kerry talks, saying the US delegation did not coordinate with the Israelis in advance as it had done in previous rounds, and blamed Israeli settlement construction for the failure of the talks. "It was the settlements that screwed up the negotiations," he said.

Indyk also described the UN as a "very hostile place to Israel." However, he said "it wouldn't be a bad thing for the United States at least to abstain" in the upcoming UN Security Council resolution on Israeli settlements. This "would be huge" because "the resolution would go through."

Indyk admitted to Hasan that he feels personally responsible for the failure of the latest round of negotiations but promised not to give up on peace until he draws his "last breath." He also said that the United States has "worked harder than anybody else" and he will "apologise to nobody" for the efforts made to resolve the Israel-Palestine conflict.

Asked why the US continues to tolerate "being slapped in the face" by Israel - for instance, when it announced the construction of new settlements during Vice President Joe Biden's visit to Israel - Indyk said Israeli officials should not be "welcomed in Washington" if they humiliate the US.

He explained that one of the reasons the US supports Israel's security to the tune of 3.5 billion dollars is because it faces some real threats in the region, but asked about withholding any of the money in order to pressure Israel, he said that he "can imagine that some circumstances would arise. And it's happened before and I don't rule out that it would happen in the future."

Discussing the power and influence of pro-Israel lobbying organisations in the United States, Indyk said the conservative American Israel Public Affairs Committee (AIPAC), which he previously worked for, "is indeed a powerful lobby on behalf of Israel" and that " there's no doubt that its influence constrains what an administration can consider that it would do."

He also said the progressive lobbying organisation J Street is more in tune with young Jewish-Americans than the more conservative AIPAC, and that the Conference of Presidents of Major Jewish Organizations "made a mistake" by refusing to admit J Street in its umbrella group. J Street "needs to be part of the dialogue" as it has a "way to reach" the younger generation "in a way that AIPAC has great difficulty doing."

Currently executive vice president at the influential Brookings Institution, Martin Indyk served twice as US Ambassador to Israel, and was also assistant secretary of state for Near East Affairs during the Clinton administration. He participated in the Camp David talks in 2000 and led the US peace team in the 2013-2014 negotiations.

Hasan is joined by a panel of three experts: Ghada Karmi, a Palestinian activist, author of Return: A Palestinian Memoir, and Research Fellow at the University of Exeter's Institute of Arab and Islamic Studies; Rachel Shabi, an
award-winning journalist and author of Not the Enemy: Israel's Jews from Arab Lands; and Alan Johnson, senior research fellow at BICOM, the Britain Israel Communications & Research Centre, and former professor of Democratic Theory and Practice at Edge Hill University.

Head to Head: Should the US be neutral on Israel-Palestine? with Martin Indyk airs on 13 May at 22:00 CAT; 14 May at 14:00 CAT; 15 May at 03:00 CAT and 16 May at 08:00 CAT.

The programme will be online, after it first airs, on YouTube and at this link: http://aje.io/5hlw.

Follow Head to Head on Twitter @AJHeadtoHead and view all previous episodes from the series at http://www.aljazeera.com/programmes/headtohead/.