By Liu Zhonghua, Zhao Cheng, Li Feng, Qu Xiangyu from People's Daily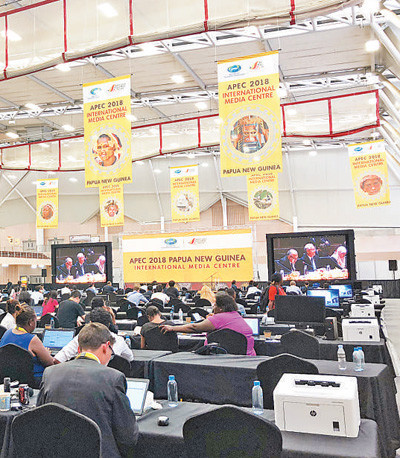 International media center of the 26th Asia-Pacific Economic Cooperation (APEC) Economic Leaders' Meeting. (By Chen Zhenkai from People's Daily)
Chinese President Xi Jinping's remarks at the Asia-Pacific Economic Cooperation (APEC) CEO Summit in Port Moresby, Papua New Guinea on Nov 17th have received warm responses among listeners.

In a keynote speech titled "Jointly Charting a Course Toward a Brighter Future", Xi offered a prescription to world economy with a series of penetrating discourse and vivid metaphors, which won him rounds of applauses.

Impressed by his wisdom and strong personality, the audience agreed with his viewpoints on innovation. They are also encouraged by the announcement that China will host the second Belt and Road Forum for International Cooperation next year.


"APEC is an important platform to facilitate economic and trade cooperation in Asia-Pacific region and China could play a more important and constructive role within the mechanism", said Donald Campbell, international co-chair of Pacific Economic Cooperation Council, after hearing the speech.

He also expected the APEC members to promote the building of free trade area of the Asia-Pacific (FTAAP).

Philip Tsai, Chairman of Deloitte China, agreed with Xi's proposal on promoting innovation to tap new sources of growth.

Describing technology innovation and digital economy as accelerators for the future economic growth of the Asia-Pacific region, he suggested that the firms should use new digital technologies to address the predicament brought by industry restructuring.

"China has ascended into the top 25 most innovative economies in the world, and its unique digital ecosystem has made it a global forerunner in digital economy", he added.

Michael Payer, chief of Papua New Guinea-based green energy firm Energy Star, said he was impressed by Xi's wisdom, and inspired by his personal charisma after hearing his speech at scene for the first time.

The energy-saving and solar powered products imported from China each month are very popular in local market.

About 90 percent of households in Papua New Guinea, a relatively backward economy, have no access to power so far, but the country is rich in solar resources, Payer said, in a hope that more Chinese renewable energy products could export to Papua New Guinea and improve its households' life.

During the speech, President Xi announced that China will host the second Belt and Road Forum for International Cooperation in Beijing in April next year, which was welcomed by the guests.

Karmis, chief of Papua New Guinea's Investment Promotion Authority, was deeply encouraged by China's decision. He said that being the largest and most populous Pacific island country and endowed with abundant natural resources, Papua New Guinea welcomes further stretch of Belt and Road routes in South Pacific island region.

He believed that it will greatly bolster regional economic growth, and improve the education of rural population, medical treatment and health care, as well as transportation and other infrastructure.

"The Belt and Road construction can help Pacific island countries optimize their infrastructure and improve local residents' life", said Dumukoro, a delegation member of Fiji, which inked a memorandum of understanding on cooperation with China on Nov. 12 within the framework of the Belt and Road Initiative (BRI).

China is a good friend of Fiji, and the BRI will beef up bilateral economic and technological cooperation and push for shared development and prosperity, Dumukoro added.