Source: People's Daily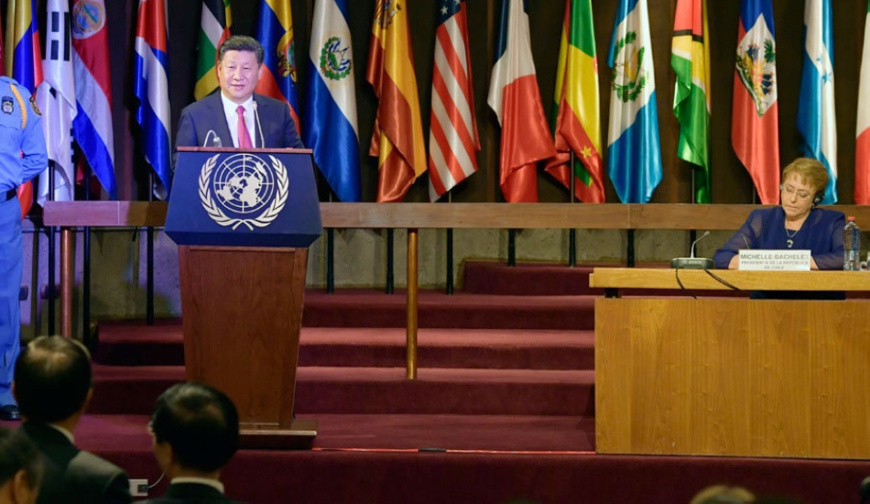 Chinese President Xi Jinping's state visit to Switzerland will open another brilliant chapter for China's multilateral diplomacy in 2107, People's Daily said in a commentary published on Tuesday, adding that the international community will again witness China's strong sense of responsibility in maintaining world peace and common prosperity.

During his first state visit this year, Xi is scheduled to attend the 47th World Economic Forum and to deliver a keynote speech at the United Nations Office in Geneva.

Xi will also be the first Chinese top leader to visit the World Health Organization (WHO) as well as International Olympics Committee (IOC) headquarters, said the People's Daily article under the byline of Zhongsheng.

China has pushed forward global governance and the reform of international system by sharing Chinese ideas and solutions at the multilateral stage, the article noted.

It further illustrated that since the 18th National Congress of the CPC, China has hosted a series of home-field diplomatic events. Chinese leaders, when attending multilateral international summits, have put forward their ideas, concepts and proposals with the aim to lead the international system reform and strengthen voices of emerging markets and developing countries.

Xi, when addressing the UN summit celebrating its 70th anniversary in September 2015, expounded China's proposals to build a new type of international relations centering on win-win cooperation and to create a community of common destiny for mankind.

His proposals have ushered China's multilateral diplomacy into a new era and provided new concepts and vision for international relations, the paper commented, adding that during this Swiss trip, Xi will again elaborate China's propositions on international relations on the UN stage.

China has been committing itself to maintaining world peace and security and shouldering its responsibilities, the paper indicated, citing its contributions to peacekeeping mission as evidence.

China has deployed the largest number of peacekeepers among the five permanent members of the UN Security Council, and has become the 2nd largest contributor to UN peacekeeping budget.

China also plays an active part in dealing with the regional conflicts and international hotspot issues. For instance, the country, within the UN framework, has played a responsible role in the political settlement of social crisis in East Timor, hunger crisis in Haiti, Iranian nuclear issue, Syrian conflict, South Sudan and other regional and global hot-spot issues.
In addition, China has taken a constructive part in international negotiations on arms control and disarmament, and made important contributions to Comprehensive Nuclear Test Ban Treaty and other multilateral arms control treaties.
As a major country with a strong sense of responsibility, China continued its efforts to promote cyber security and multilateral cooperation in tackling global climate change, providing increasing public products for world peace and security.

Besides, China has made great contributions to the world's development, the paper said, citing the example of China's endeavor to pursue a freer and more convenient international multilateral trade system by speeding up Doha Round negotiations after its entry into the WTO.

As an important role in the formation of the UN Millennium Development Goals and the 2030 Agenda for Sustainable Development, China is the first developing country to realize the UN Millennium Development Goals in poverty reduction.

What's more, China contributed to world's human rights undertakings with its active engagement in global cooperation, and boosted the global sports cause by hosting the 2008 Beijing Olympic Games and preparing for 2022 Winter Olympic Games.

The country also won world's praises for the immediate hand it lent after the outbreak of Ebola virus in Africa. Among the first countries to respond to the UN call, China, by cooperating with the WHO and other countries, launched its largest-scale overseas public health assistance since the founding of the People's Republic of China.

Xi's visit will offer Chinese initiatives in response to global challenges and contribute China's wisdom to the peace and development of mankind, the paper concluded.