By Li Ning from People's Daily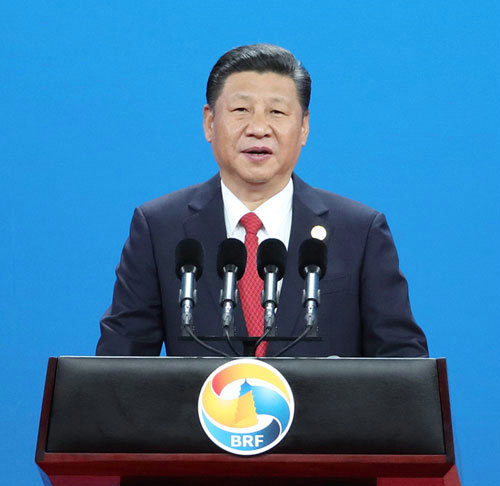 Chinese President Xi Jinping said Sunday the vision of the Belt and Road Initiative is becoming a reality and bearing rich fruit four years after it was proposed.

Belt and Road countries have seen increased connectivity in policies, infrastructure, trade and finance, as well as strengthened people-to-people bonds, Xi said in a keynote speech delivered at the opening ceremony of the Belt and Road Forum for International Cooperation.

Xi first proposed the initiative, which aims to build a trade and infrastructure network connecting Asia with Europe and Africa along and beyond the ancient trade routes, in autumn 2013.

In policy coordination, Xi said China has signed cooperation agreements with over 40 countries and international organizations, and carried out framework cooperation on production capacity with more than 30 countries.

During the forum, a number of cooperation agreements on policy connectivity and action plans will be signed, Xi announced.

China will also launch Belt and Road cooperation initiative on trade connectivity together with some 60 countries and international organizations, he said.

The pursuit of the Belt and Road Initiative is "not meant to reinvent the wheel," Xi told delegates.

"Rather, it aims to complement the development strategies of countries involved by leveraging their comparative strengths," he said.

Regarding facilities connectivity, Xi said China and relevant countries have accelerated the building of Jakarta-Bandung high-speed railway, China-Laos railway, Addis Ababa-Djibouti railway and Hungary-Serbia railway, and upgraded Gwadar and Piraeus ports.

A large number of connectivity projects are also in the pipeline, he noted.
He spoke of a multi-dimensional infrastructure network taking shape, underpinned by economic corridors such as China-Pakistan Economic Corridor, China-Mongolia-Russia Economic Corridor and the New Eurasian Continental Bridge.

The network features land-sea-air transportation routes and information expressway and is supported by major railway, port and pipeline projects, Xi said.

In addition, countries have facilitated trade and investment and improved business environment.

Customs clearance time for agricultural produce exported from Kazakhstan and other Central Asian countries to China has been cut by 90 percent, Xi noted.

Trade between China and other Belt and Road countries exceeded 3 trillion U.S. dollars in the 2014-2016 period, and China's investment in these countries surpassed 50 billion dollars, he said.

Chinese companies have set up 56 economic cooperation zones in over 20 countries, generating some 1.1 billion dollars of tax revenue and 180,000 jobs for them.

Financial cooperation has been expanded, with the Asian Infrastructure Investment Bank having provided 1.7 billion dollars of loans for nine projects in Belt and Road countries, Xi said in the speech.
The Silk Road Fund has made 4 billion dollars of investment, while the 16+1 financial holding company between China and Central and Eastern European countries has been inaugurated, he noted.

Meanwhile, cooperation in science, education, culture, health and people-to-people exchange has helped lay a solid popular and social foundation for pursuing the Belt and Road development, Xi said.

Every year, the Chinese government provides 10,000 government scholarships to relevant countries, with special Silk Road scholarships set up by local governments, he elaborated.

Projects like Silk Road culture year, tourism year, art festival and think tank dialogue are also flourishing.

The fruitful outcomes show the Belt and Road Initiative responds to the trend of the times, conforms to the law of development, and meets the people's interests, Xi said, noting that the initiative "surely has broad prospects."