By Joseph S. Margai (People's Daily Online)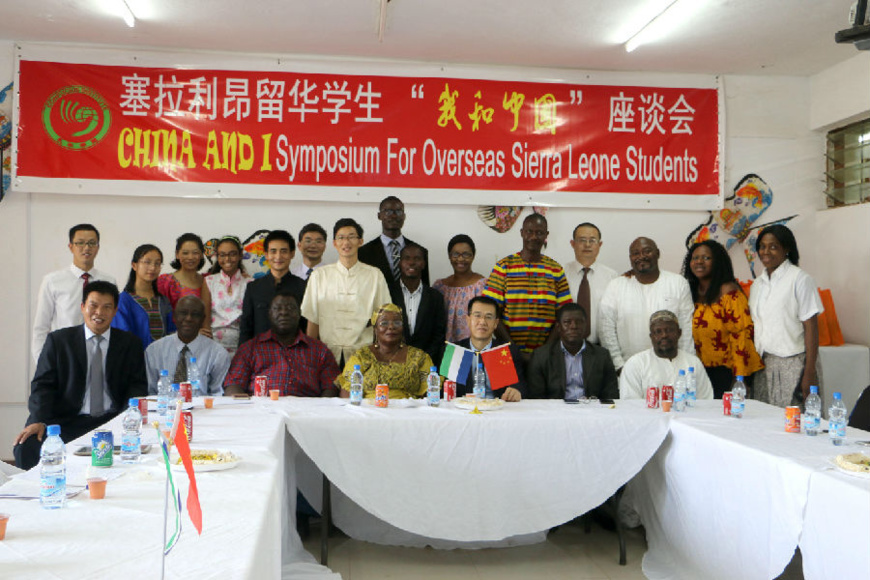 At the Embassy of the Republic of Sierra Leone in China, the Head of Chancery (HOC) Unisa Sahid Kamara revealed that there are currently 200 Sierra Leonean students pursuing various academic courses in China.

Kamara, speaking in an exclusive interview recently in his office in Beijing, also revealed that 98 percent of the Sierra Leoneans living in China are students, adding that they have been sending favorable reports to the embassy about the Chinese scholarship programs.

However, he noted that there are a number of Sierra Leoneans that are into business in Guangzhou city, Guangdong province.

"Two of our Sierra Leonean sisters are in Beijing, Ada Yang, who is married to a Chinese national and Maria, who is in the social and entertainment industry. China provides a platform where everybody thrives," he said.

The Sierra Leone HOC said Sierra Leone's bilateral relationship with China has gained enormous benefits. He says there are enormous benefits in the areas of infrastructure, education, agriculture, trade and economy, medical support, capacity building programs as well as long and short term training.

He highlighted that the Sierra Leone police headquarters, the national stadium, the Ministry of Foreign Affairs, some portions of Sierra Leone's parliament, the ministerial building in Freetown and a range of other important buildings, were all constructed by the Chinese.

"The Chinese government has provided a concessional loan to Sierra Leone for the construction of a modern airport in Mamamah Town, Port Loko District, northern Sierra Leone. That airport, when completed, will bring enormous benefits to all Sierra Leoneans," he said.

The HOC recalled that during Sierra Leone's Ebola outbreak in 2014, the Chinese government took a plane loaded with medical equipment and personnel to help control the disease, noting that during the fight to contain the disease, no Chinese citizen lost his or her life.

"The reason for the widespread outbreak of the Ebola virus in 2014 was that we were not prepared or had no idea on how to tackle it. But the Chinese government has recently set up a disease control and prevention center in Freetown that will serve the whole of West Africa. That facility has been handed over to the Republic of Sierra Leone Armed Forces (RSLAF) in order to better handle such outbreaks in the future," he said.

He revealed that they had recently embarked on a public diplomacy program for Chinese primary school pupils in Beijing. This program, he continued, is to teach Chinese pupils about Sierra Leone and African culture.

"We always do such programs during summer holidays. We bring the pupils to the embassy, tell them Sierra Leonean stories and play Sierra Leone's music, and they will in turn dance to it. By so doing, they have been able to understand that there is a continent called Africa and there are people who are black and very hospitable and receptive to every race in the world," he explained.

Quizzed on the embassy's relationship with the Chinese authorities, the HOC said that the relationship is cordial as the Chinese authorities honor any request that is made by embassy officials.

"China is no longer a third-world country as we previously thought. This is a country to reckon with, she is the second most important country in the world. There is nothing much that the Europeans and the U.S. are boasting of that is not available here," he noted.