By Xing Xue from People's Daily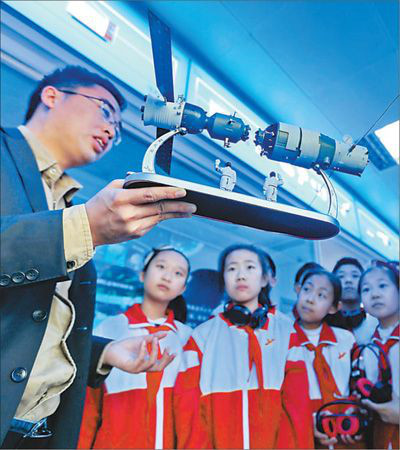 A staff from a radio administration bureau teaches students the application of radio in aerospace industry. An activity about space knowledge was held for students of a primary school in Qinhuangdao, north China's Hebei province in April, 2017. (Photo by Shi Ziqiang from People's Daily)
Over the past five years, some 370,000 students have been enrolled because of the special policies to recruit students from rural and poverty-stricken areas and less well-off central and western regions of the country, Chen Baosheng, Minister of Education announced at the 19th National Congress of the Communist Party of China (CPC) on Thursday.

Chen explained that the figure equals to building more than 100 universities with intakes of 2,000 students per year.

He also pointed out that college enrollment rates in China's worst-performing province fell to less than 4 percent below the national average over the last five years. Five years ago, this figure was 15.3 percent below the national average.

Meanwhile, 30 provinces or autonomous regions have introduced policies to help migrant children take the national college entrance exam, or Gaokao, in their adopted places of residence. This year, 150,000 migrant children took part in the exams under the policies, Chen said.

In the report delivered to the 19th CPC National Congress, Xi Jinping said the country must give priority to education and promote the coordinated development of compulsory education in urban and rural areas, while giving particular attention to rural areas.

He also urged to improve preschool education, special needs education, and online education, make senior secondary education universally available, and strive to see that each and every child has fair access to good education.

"The Congress brings real benefits to Chinese education and teachers," said Wang Wenxia, a delegate to the Congress as teacher from Hengshui High School.

According to Wang, government in north China's Hebei province, where Hengshui High School is located, allocated over 100 billion yuan($15 billion) per year to develop education during the past five years.

In 2016, Hebei increased education expenditure to 142.04 billion yuan($21.5 billion), up 36 percent compared with 2012. Hebei also has built a mechanism to guarantee stable growth of education fund, with spending on all stages of education and all kinds of schools rising year by year.

Wang pointed out that increasing spending on education in rural and impoverished regions has helped students who have financial difficulties and eliminated the inter-generational transmission of poverty.

"By letting one student go out, education enables a family to go out and gives it hopes," Wang said.