By Ji Peijuan from People's Daily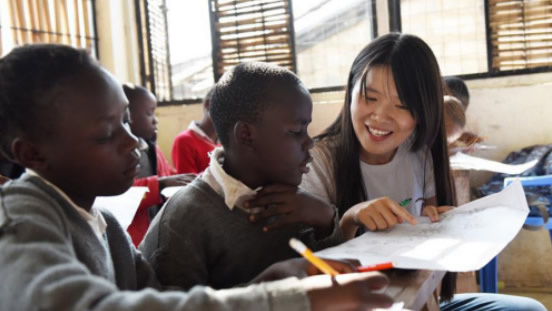 Many Africans have witnessed drastic changes in their life thanks to China-Africa cooperation on poverty reduction over the past three years, which has allowed China to offer valuable experiences and ideas to the continent who still faces an arduous task to lift its nearly 400 million impoverished population out of poverty.

Poverty alleviation is also part of the big package of ten major China-Africa cooperation plans China put forward three years ago.

Residents in Peiyapeiya Village, Morogoro Province of Tanzania have benefited from a village-level learning center for poverty reduction set up by the International Poverty Reduction Center in China (IPRCC) under the assistance from China Agricultural University.
After the center was established, some 207 households, or half of the total households in the village adopted Chinese technology of corn planting in 2017, which at least doubled the corn yield for the village and effectively improved people's livelihood.

In a village in eastern Ghana, gastrointestinal diseases and cholera have long been serious threats against the health of the local people because of poor water quality. The villagers had to fetch water from a pond outside the village, and a household of five people had to make three trips a day to satisfy their daily demand for water.

OnDec. 2015, a China-assisted project to offer wells for Ghana officially commenced. A total of 1,000 wells were drilled by China's Zhongmei Engineering Group Ltd. for 832 villages from 6 Ghanaian provinces. Now, cleanwater is available for local villagers as long as they turn on the pumps.

About 500,000 rural residents in Ghana have benefited from the project, and there are tens of such projects in other African countries including Sudan, Malawi, Zimbabwe, Djibouti, Guinea and Togo.

Chinese President Xi Jinping's book on poverty relief was sought after at the China-Africa High-Level Dialogue and Think Tank Forum on Fighting Against Poverty for Common Prosperity held in Ethiopia last June. The books, which were offered as gifts at the events, even ran out of supply.

The book titled "Up and Out of Poverty" recorded Xi's ideas and practice on lifting Ningde, an impoverished county in southeastern China's Fujian province, out of poverty when he worked there.

Africa washome to tens of thousands of regions like Ningde in need of valuable experiences in poverty reduction, said a chief editor of a media group from the Democratic Republic of the Congo, adding that China's practice could serve as a reference for Africa.

"China started as the most impoverished country, and shared a similar premise for development with African countries," said Justin Yifu Lin, dean of the Institute for New Structural Economics and the Institute of South-South Cooperation and Development, Peking University.

He noted that China's experiences and theories gained over the past 4 decades of reform and opening up are especially of high reference value for African and other developing countries.

Over the past 40 years, China has lifted more than 700 million people out of poverty, contributing over 70 percent to global poverty reduction. What China has achieved enlightens Africa.
Special Advisor to the Ethiopian Prime Minster Arkebe Oqubay spoke highly of Xi's views expressed in "Up and Out of Poverty", saying every village should develop their own featured industries.

"Policies for industries and agriculture must be combined. Africa is a continent of diversity, and differentiated policies must be adopted to promote industrial development," he remarked.

Poverty reduction goes hand in hand with education, and China places high importance on the fostering of Africa's independent development ability. It gives special weights to innovation of young Africans, and the transfer of human resources into practical driving force.

China, by establishing elementary and middle schools, as well as vocational institutes in Africa, is helping improve school management, and offering studying materials and basic meals for African students. In addition, China also donates stationeries and books to local students, creating a more favorable education environment for more African adolescents.

So far, China has trained 162,000 professionals for Africa, of which 40,000 Kenyan technicians alone for the Mombasa–Nairobi Standard Gauge Railway project. Meanwhile, China has offered 43,000 spots of training courses, 20,000 government scholarships, and 1,300 spots for academic education.