By Shi Zhipeng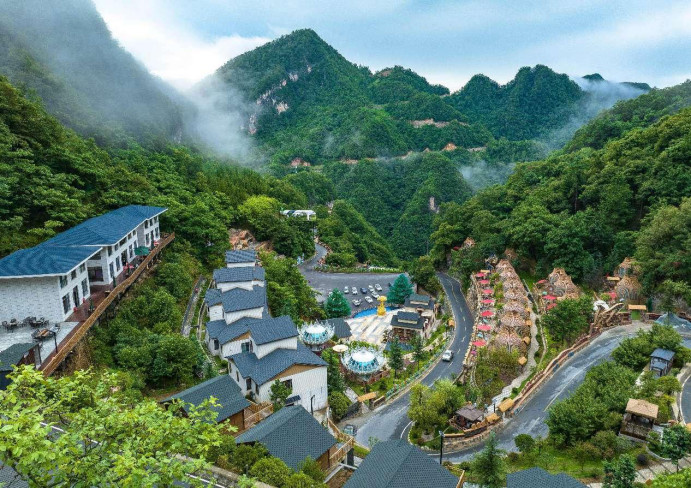 After rehabilitation of a mining area, Yaozhihe village in Baokang county, central China's Hubei province builds a cluster of B&B hotels at the former site of the mining area. (Photo by Yang Dong/ People's Daily Online)
"Hello! Do you still have rooms available?"

"Hello! We have two rooms available. When do you plan to arrive? Do you have any special requests for the room?"

B&B manager Kong Jie picked up the phone and handled a reservation enquiry at a B&B hotel in Jiuru Mountain scenic area in Jinan city, east China's Shandong province.

After communicating with the guest, Kong and the guest became connected with each other on WeChat, an instant messaging application. She then shared the location of the B&B hotel and its parking lot so the guest would find it easily.

China has more than one million B&B managers. Last year, B&B hotel managers officially became a new profession recognized by the country's Ministry of Human Resources and Social Security.
By providing customized services including accommodation, dining, and experiencing local natural environment, culture and lifestyles, B&B managers meet tourists' needs for individualized experiences.

Kong, 37 years old, is from Jining city of Shandong. Before starting to work in the B&B industry six years ago, she had done several odd jobs in different places.

Over the past 6 years, Kong has witnessed the rapid growth of the B&B industry.

"The form and content of tourism in China have undergone tremendous changes in recent years. Tourists no longer satisfy themselves with simple sightseeing, but like to experience in richer ways," Kong said.

B&B hotels emphasize service and experience, allowing guests to return to nature and feel warm and intimate, comfortable and relaxed.

The booming B&B industry has driven the development of rural tourism and boosted local employment.

Liu Li, a 45-year-old B&B manager, is a villager from nearby Huluyu village. Before doing this job, Liu was a housewife with no source of income.

"After B&B hotels became popular, I pursued training to become a B&B manager, leading to a fulfilling job near home," Liu said.

Now, Liu's child has gone away to university. Being a B&B manager allows her to conveniently take care of her elderly family members. Liu said she is very satisfied with her job.

Good B&B managers are often "jacks of all trades."

According to Kong, the daily work of B&B managers is very comprehensive and not easy to do.

In addition to basic accommodation services such as check-in, reception, cleaning and meal arrangements, B&B managers also plan travel routes for guests and recommend attractions, offering travel tips regarding mountain climbing, water activities, and visiting the scenic area's experience centers.

B&B managers also need to receive training on many skills, including creating a welcoming atmosphere, reception etiquette, coffee brewing, wine tasting and flower arrangement. Mastering these brings pressure and challenges to Kong, while promoting the hotel on social media is her toughest task.

Social media and short videos provide new channels to promote B&B hotels.

"I'm learning to use Douyin, Xiaohongshu and other social media apps," said Kong. "I host live-streaming sessions regularly to showcase our hotel's homey feel. Posting photos and text about our hotel helps more potential guests discover what we offer," said Kong.

"After a few live-streaming sessions, I've received many questions from viewers about our location, pricing, and the surrounding scenic area. This makes me feel delighted," said Kong.

In the recreation center of Kong's B&B hotel, laughter rang out as Kong chatted happily with guests Ms. Dong and her family. During the conservations, Kong made coffee for them.

Compared to hotel services, B&B hotels emphasize personalized services with the human touch.

Recently, a guest at Kong's hotel had a fever in the middle of the night. Since there were no pharmacies nearby in the mountainous region and the guest did not have any medicine, the accompanying family members were very worried. They called Kong for help.

"After we learned of the situation, we immediately drove to town, bought antipyretics and delivered them to the guest," Kong recalled. At 7 a.m. the next day, the guest texted her on WeChat that the fever was gone and expressed their gratitude.

One guest visited Kong's hotel and kept coming back, sometimes with family and sometimes for company team building events. Every time before leaving, he would tell the managers what they did well during his stay and what could be improved. He also shared books he was reading with them. Over time, he formed deep friendships with the managers.

Kong has many stories like this from her time as a B&B manager. What she cherishes most are the connections she has made with guests from across the country.

"Everyone has their own story. Communicating with the guests opens my eyes to new possibilities in life," she said.

"B&B managers becoming a new profession not only means we've gained social recognition, but our future lives will have more prospects. In the future, I want to learn more skills such as tea ceremony and making wine, and then get certified," Kong expressed. The woman has started making plans for her future career development.