By Han Xiaoming from People's Daily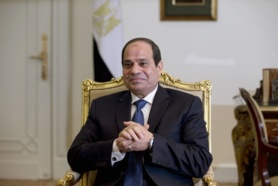 The BRICS members, whose GDP contributes to 22 percent of the world's total, carry great political weight on the world stage, Egyptian President Abdel-Fattah al-Sisi told the People's Daily before he kicked off his Chinese visit, during which he would attend the ninth BRICS Xiamen Summit and Dialogue of Emerging Market and Developing Countries.

"Egypt sincerely hopes to further intensify its cooperation with China and further propel bilateral ties in all spheres, in order to benefit the two peoples," Sisi pledged, adding that his country, with promising economic potential and favorable geographic location, would make concrete contributions to BRICS cooperation and its priorities.

The forthcoming important dialogue Egypt will have with BRICS countries can bolster mutual understanding on major issues concerning the developing countries as well as the political, economic and social challenges facing them, the president pointed out.

He added that the BRICS Business Forum, as an important side-event of the summit, also offers Egyptian government a good chance to share the accomplishments yielded from its economic reforms.

The Egypt-China ties could be regarded as a model for the relationship between two major countries with regional and even global influence since the two countries established diplomatic ties in 1956, the president hailed. This is Sisi's fourth Chinese trip since he assumed the president.

Such ties can be attributed not only to shared stance and same principles both sides uphold, but also to the people-to-people bonds linked by the ancient civilizations, he explained.

Sisi also hopes to further beef up bilateral cooperation in all fronts, taking into account the follow-up contribution of Chinese companies to ongoing infrastructure projects in Egypt.

Egypt enjoys unique advantages in engaging in the Belt and Road Initiative, the proposal China put forward in 2013 with an aim to revive the ancient Silk Road trade routes, Sisi said, adding that his country is now renovating the Suez Canal axis into a high-end economic and industrial zone linking the world rather than simply a passage on the water.

The solidarity between developing countries allows them to exchange development experience in a maximum manner, and find out the best and most appropriate roads for human development, production development and economic prosperity, Sisi pointed out.

The dialogue of emerging markets and developing countries will give a boost to South-South cooperation by working as an important platform on which BRICS members, emerging markets and developing nations can communicate with each other, he said.

In the current international situation, the developing nations are required to play a larger role in global economic governance system, according to Sisi, stressing the importance of more weight in decision-making.

When making a decision, the developing nations need to take their development visions and preconditions into considerations, while accommodating the demands of countries different in development stages, cultures and growth paths, he continued.

"The global economic governance system should not be confined to developed world," the president stressed at last.