By Li Yingyan from People's Daily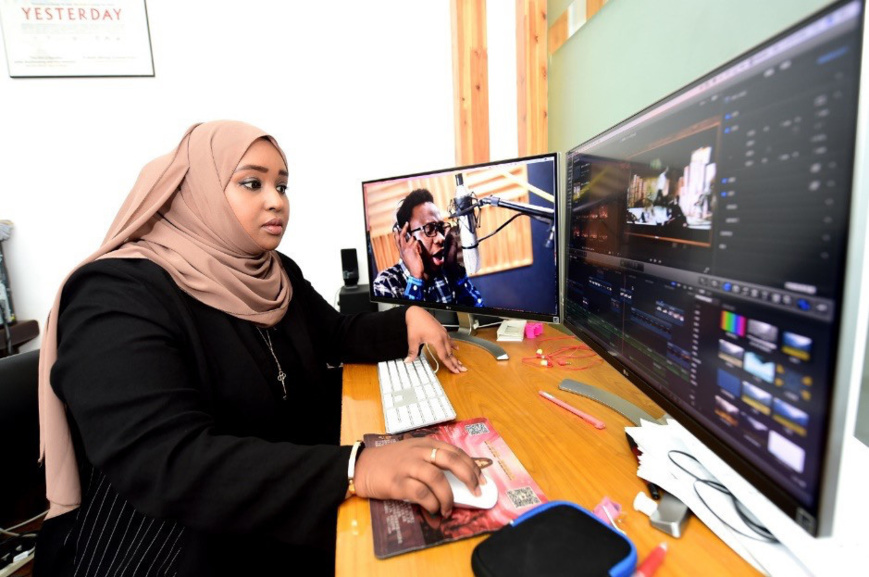 A Somali student edits the documentary "Africans in Yiwu" in a classroom at Zhejiang Normal University, Nov. 14, 2017. (Photo by Gong Xianming from CFP)
Supporting Africa in realizing peace, stability and development serves the common interests and is also the shared responsibility of the international community, Foreign Ministry spokesperson Geng Shuang told a regular press conference on March 7.

Geng made the comments after US Secretary of State Rex Tillerson lodged groundless accusations against China-Africa cooperation, saying that Chinese investment leads to mounting debt in Africa.

China welcomes the diversification of Africa's international partnerships and sincerely hopes that various parties of the international community can increase inputs in Africa, the diplomat pointed out, adding that the developed countries, in particular, should earnestly deliver on their commitment.

Geng called on relevant countries to develop relations with Africa with a view of supporting Africa's peace and development and making positive contributions to its prosperity and revitalization, instead of making irresponsible remarks on African countries' efforts to pursue their own development goals and their ongoing cooperation with other countries.

African countries and people know best and are in the best position to say whether the China-Africa cooperation is good or not, the spokesperson highlighted.

As agreed by China and Africa, the Beijing Summit of the Forum on China-Africa Cooperation will be held in September this year, Geng said, adding that China and Africa are now in close communication and coordination and making all-out efforts to prepare for the summit.

We believe that the summit will surely achieve fruitful outcomes and inject strong impetus into the development of Africa and the China-Africa cooperation, Geng said.

The debt owed by some African countries was accumulated over a long period of time instead of in recent years, Geng told a regular press meeting on one day earlier, stressing that China is not the main creditor of African countries.

He said that financing support is indispensable for any country that is at the stage of economic takeoff, especially the initial stage of industrialization. Without financing, it would be difficult for African countries to achieve industrialization and modernization.

China always attaches high importance to Africa's debt sustainability, he said, adding that the country welcomes the concerted efforts made by the international community to support Africa in achieving peace, stability and development.

"We hope that relevant countries can earnestly contribute more to Africa's development and view China-Africa cooperation in a fair and objective way."

China is now the largest trade partner, a major source of investment and a major project contractor of Africa. The country has helped African nations build a host of landmark and large-scale projects, including the Addis Ababa-Djibouti railway project and Nairobi-Mombasa railway, and made headway in industrial capacity cooperation with pilot and demonstration countries, including Ethiopia, Kenya, Tanzania and the Republic of Congo.

In 2013, China-Africa trade surpassed $200 billion. China was Africa's largest trade partner for five straight years from 2012 to 2016.

There are more than 20 China-built economic and trade parks in Africa. These parks are home to over 360 enterprises, drawing a total investment of nearly $5 billion and production value of $13 billion.

"Certain people and forces are not willing to offer assistance to Africa but harbor 'the mindset of sour grapes' against the achievements of China-Africa cooperation," Foreign Minister Wang Yi said previously, stressing that in front of the historical trend and fruitful results of China-Africa cooperation, any rumor is futile and any provocation is doomed to fail.