By Liu Zhiqiang from People's Daily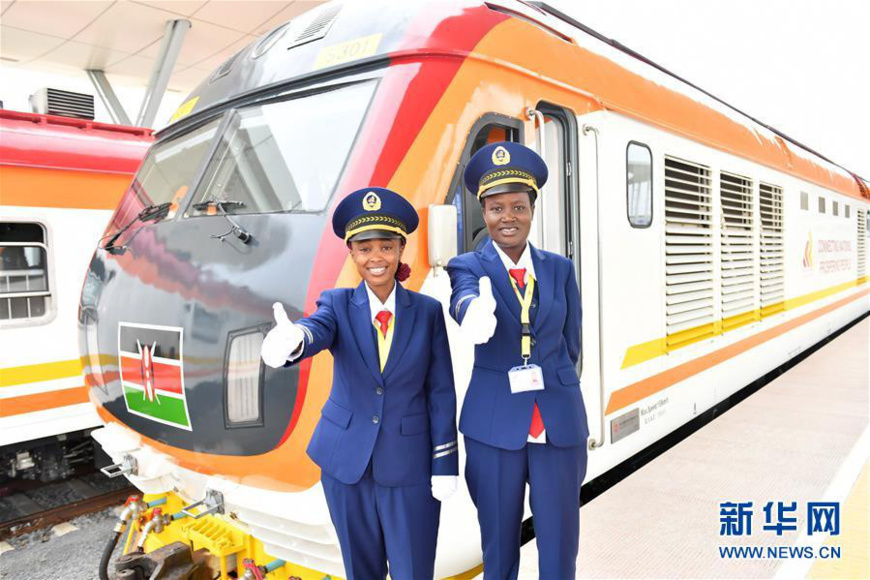 Two female engine drivers gesture before the operations of the Mombasa-Nairobi Standard Gauge Railway in Mombasa, Kenya to wish a successful journey of the first train. (Xinhua/Sun Ruibo)
Both Chinese and foreign companies have reaped tangible benefits from a series of cooperation launched under the Belt and Road Initiative, in terms of business growth, market expansion and brand reputation, a number of company executives said on Nov. 15th.

They said so when talking about their engagement in the Belt and Road construction at a press briefing hosted by the State Council Information Office.

The Greek public supported the China-Greece cooperation under the Belt and Road Initiative, said Angelos Karakostas, deputy CEO of Greece's Piraeus Port Authority. China's shipping giant COSCO currently runs Piers II and III of the port through subsidiary Piraeus Container Terminal under a 35-year concession since 2008.

Thanks to the cooperation, the port's annual throughput grew to 4.15 million TEUs in 2017 from 880,000 TEUs in 2008, bringing the port's global ranking up to 36th from 93rd, the deputy CEO said.

He projected that in the near future, the port would grow into the largest one in Mediterranean sea, and the fourth biggest one in Europe.

The Mombasa-Nairobi Standard Gauge Railway (SGR) in Kenya, a major project under the initiative undertaken by state-owned construction giant China Communications Construction Company, is the first railway built in Kenya in nearly a century, according to James Michugu Karanja, vice director of Kenya's SGR project.

He illustrated that the construction of the Mombasa-Nairobi railway created some 46,000 local jobs and contributed more than 1.5 percent to Kenya's GDP.

After opening to traffic on May 31, 2017, it had carried some 2 million passengers and 2 million tonnes of cargo as of the end of October, James added.

After Hungarian chemical producer BorsodChem was acquired by China's Wanhua Chemical Group in 2011, the company has managed to turn a profit in 2015, create a record high in its profit margin over the past two years, and keep more than 3,000 jobs, said Bela Varga, vice president of human resources and public relations for BorsodChem.

Extending a gratitude to Wanhua who saved the Hungarian chemical producer, he recalled that back to 2011, BorsodChem's financial standing was so poor that it had reported loss for three years in a row.

By engaging in Belt and Road construction, Chinese companies have not only won trust, understanding and gratitude from their overseas partners, but also expanded their business span and market share. They marched further in their pace of internalization, development space and image building.

The China Communications Construction Company has seen a surge in overseas investment thanks to the Belt and Road Initiative, according to Sun Ziyu, vice president of the construction giant.

The accumulative contact value of the company's overseas investment has risen to nearly $20 billion, but the figure was less than 500 million yuan ($72.04 million) before the proposal was put forward, he illustrated, adding that his company is running over 400 projects in countries and regions along the Belt and Road route.

Yu Zenggang, vice general manager of COSCO, said the Belt and Road Initiative helps the business expansion of his company.

"Piraeus Port, situated in the center of Mediterranean Sea, will help us pave up a new corridor to reach Central and Eastern Europe via sea road and then railway, and as a result save cost and optimize logistics efficiency," Yu said.

Chinese companies, when launching overseas projects, have given importance to localized operation, protection of ecological environment, and social responsibilities.

Yu said that to run the big port, Chinese headquarters only sends 15 administrative personnel, and the rest 2,000 employees are all from local community.

"When designing the Mombasa-Nairobi railway that has wild zones along the route, we make the culvert higher so that the giraffes can pass through without bending down, although it means more costs", Sun said.

He added that his company is willing to shoulder such costs because a respect to ecological environment brings the company with better reputation.

Proposed by China, the Belt and Road Initiative refers to the Silk Road Economic Belt and the 21st Century Maritime Silk Road, aimed at building a trade and infrastructure network connecting Asia with Europe and Africa along the ancient trade routes of the Silk Road.