By Ji Peijuan, Luo Qing from People's Daily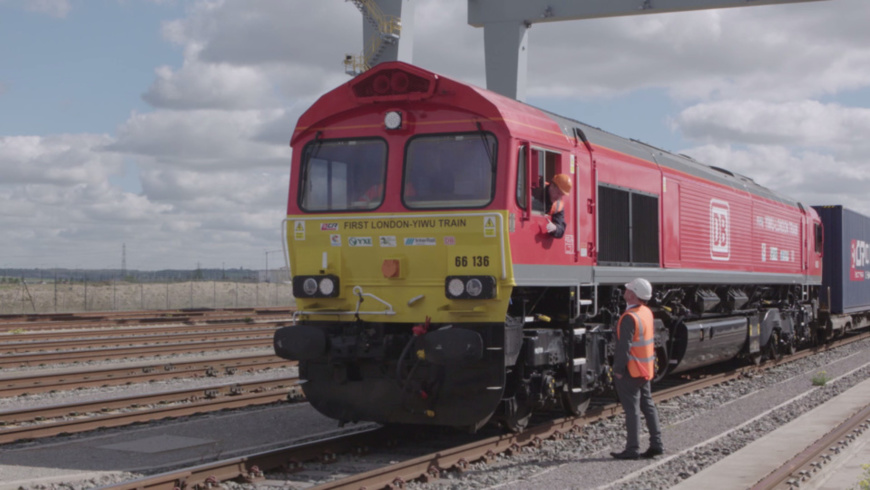 On April 10, 2017, the first London to Yiwu Sino-EU train is ready to start. (Photo provided by DP World London Gateway)
The "Belt and Road" initiative, which has drawn worldwide attention, will boost the connectivity of en-route countries in terms of land, ocean, infrastructure and cyber space, bolster their trade growth, and cement regional peace and security, the UK Ambassador to China Barbara Woodward told the People's Daily.

Her remarks came ahead of the two-day Belt and Road Forum for International Cooperation to be kicked off on Sunday.

The UK is bullish on the initiative, the ambassador said, elaborating that British companies have launched related projects together with China in Pakistan.

The UK hopes to make bigger and more tangible contribution to the "Belt and Road" initiative, she added.

The diplomat, whose country was the first major Western one that applied for a membership in the Asian Infrastructure Investment Bank (AIIB), also hailed the encouraging progress scored by the China-led bank.

"It is necessary for us to further develop infrastructure since it will not only benefit Asian economies, but also global trade," Woodward explained.

Stressing the importance of financial and legal support when building the "Belt and Road", Woodward advised her country and China to complement their advantages.

Chinese companies have abundant experience in infrastructure construction, while the British firms have advantages in financial and legal services, project design, sustainable and green development, management, consultation and education, she elaborated.

China and the UK established an ambassadorial-level diplomatic relationship 45 years ago.

Both countries decided to build a global comprehensive strategic partnership for the 21st century during Chinese President Xi Jinping's state visit to the UK in October, 2015, opening up a golden era of enduring, inclusive and win-win relationship.

The diplomat also predicted that as China further opens its market to outside world, the UK's service industry will embrace bigger development opportunities and more growth potential will be tapped from bilateral trade.

The service sector contributed 40 percent to the UK's exports, but it made up only 20 percent of its exports to China, Woodward added. The two-way trade between both countries stood at $74.34 billion in 2016.

Chinese companies will put more money in the financial service sector of the UK , the ambassador estimated, adding that most of Chinese investment in her country now flows to retail, entertainment and nuclear fields.

"The UK looks forward to more infrastructure investment from Chinese businesses," she said at last.