By Xie Weiqun and Tian Hong from People's Daily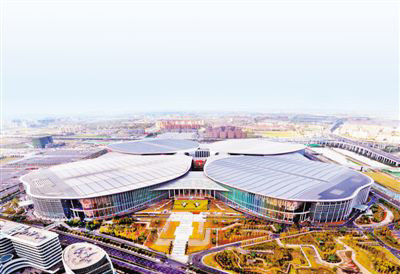 An aerial picture of the National Exhibition and Convention Center (NECC), the venue of the first China International Import Expo (CIIE).Photo by Fan Jun from Xinhua News Agency
The first China International Import Expo (CIIE) starts in Shanghai Monday.

It is an event in which 82 countries and three international organizations showcase their economic and trade achievements at the country pavilions, with more than 3,000 companies and 160,000 purchasers from over 130 countries and regions displaying their products at the enterprise and business exhibitions.

As the first import-themed national expo in the world, CIIE marks a major step of China to proactively open itself wider to the world, said an official ofthe Shanghai municipal government.

To enlarge the driving effect of the CIIE and further improve development quality, Shanghai has established an organization system for trade, including a"6 days+365 days" one-stop trading service platform for both online and offline deals, 4 coalitions of purchasing agents and 18 sub-trading groups.

The"6+365" platform offers services all year round. The food and consumer products all over the world will continue to be displayed at 13 exhibition sites in Shanghai after the 6-day expo ends and be traded all year round in Shanghai's duty-free zones.

In the Lingang Area of Pudong District, the factory of US carmaker Tesla Inc. is under construction on a tract of land of more than 860,000 square meters.

On July 10, Shanghai municipal government signed an agreement with Tesla on the construction of the factory. On the same day, the Shanghai government introduced a total of 100 new measures covering five areas such as finance, industry and intellectual property protection, in a bid to further expand the city's opening-up.

The measures marks a breakthrough of policy restrictions to introduce foreign investment in advanced manufacturing sectors such as the automobile, aircraft and shipbuilding industries.

There were worries about Tesla's possible impacts on domestic new-energy vehicles after it enters China, said Chen Jie, secretary of the Party committee of Shanghai Lingang Area Development Administration.

But after surveys, the government found that China's market demand is big enough for the development of more new-energy vehicles, and the country should open up boldly. Instead of protecting the Chinese enterprises, self-seclusion only means falling behind.

Shanghai aims tostep up the construction of a higher-quality modern industry system by taking the advantage of a higher level of opening up.

The city is expanding the opening up of its modern service industry and advanced manufacturing industry, increasing the added value and competitiveness of products, and introducing more headquarters of transnational corporations and foreign-invested research and development centers, said Shanghai Mayor Ying Yong.

The time taken to introduce Tesla into China was reduced from more than half a year to just three months, thanks to both comprehensive and tailored services to facilitate the project.

Through meeting the highest international standards, Shanghai is striving to build a global first-class business hubwith more legalized , international, convenient environment.

Shanghai's business environment will become more attractive as long as it is legalized, internationalized and convenient, said Li Qiang, secretary of the Shanghai Municipal Committee of the Communist Party of China (CPC).

There is no best, only better business environment, Li said.

On Oct. 28, the 30th International Business Leaders' Advisory Council for the Mayor of Shanghai kicked off, themed a higher level of opening up under the new circumstance.

More than 30 presidents and CEOs of Fortune 500 companies submitted their plans and proposals to the meeting, including trimming down Shanghai's negative list for foreign investment and supporting trade finance.

Severin Schwan, CEO of Roche Group, who attended the meeting almost every year, said he would like to come because his proposals were always taken seriously.

As the business environment continues to improve, More and more transnational corporations are increasing investments in Shanghai. On Oct. 27, several world-renowned companies signed agreements on 12 big projects involving foreign investment of 23.4 billion yuan (about $ 3.4 billion) with the Shanghai municipal government.

Swiss industrialgiant ABB Group said it will invest $150 million in Shanghai to build the world's most advanced, automated and flexible robotics factory, with the aim of manufacturing robots with robots.

By the end of this September, the number of countries and regions investing in Shanghai has increased to 178. Shanghai is home to more than 50,000 foreign-funded companies, including headquarters of 653 transnational corporations and 438 research and development centers.