By Wang Rujun from People's Daily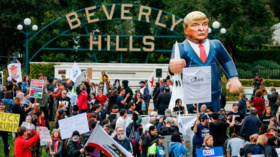 Eighty California lawmakers have unanimously passed a bill to declare their support for continued coordination and collaboration between the US, including the California state, and China.

In the bill, Assembly Joint Resolution No. 44, passed on August 30, members of the California State Assembly called on the state to "increase mutually beneficial economic opportunities and strengthen the substantial, bilateral relationship in the areas of people-to-people exchange, trade, climate change, education, tourism, technology, innovation, and green development".

Besides support for intensified cooperation between the state and China, the 80 members also urged the US President and Congress to support actions that further strengthen economic links between the US and China.

Authored by Assembly member Evan Low, a congressman representing Silicon Valley, the bill expounded on economic relations between China and the US, and aroused the attention of the US society soon after it was passed.

Located on the west coast of the US, California topped other US states in terms of population and economic performance.

According to the US Department of Commerce, California's GDP grew by $127 billion from 2016 to more than $2.7 trillion in 2017.

China is California's largest trading partner, as well as the biggest source of imports and an important export destination. In 2017, California's trade volume with China reached $175.6 billion, accounting for about 28 percent of the US' total trade volume with China and ranking the first among all states.

"Globalization is here, and a trade war is stupid," Governor Jerry Brown of California warned this May at the China Week event held in Los Angeles, stressing that China and the US can learn from each other.