By Ding Zi, Yang Ou from People's Daily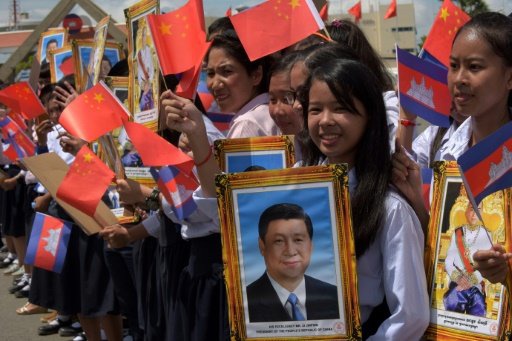 Cambodia cannot achieve development without China's assistance, and it cherishes its friendship with the latter, a Cambodian diplomat told the People's Daily upon Chinese President Xi Jinping's two-day visit to his country, believing that the trip will push bilateral ties to a new high.

In the interview, Ek Sam Ol, President of Cambodia-China Friendship Association, lauded the time-honored Cambodia-China friendship, saying that despite international vicissitude as well as domestic changes, both countries have always been as intimate as family members.

"Since bilateral ties were upgraded to a comprehensive strategic cooperative partnership in 2010, our pragmatic cooperation in all fronts have brought tangible benefits to both peoples. We cherish our friendship with China," he added.

The Cambodia-China Friendship Association, established at the call of Cambodian Prime Minister Hun Sen, is a non-governmental organization that aims to consolidate bilateral traditional friendship, mutual understanding as well as cooperation in economy, social affairs, culture and sports. It has branches in several Cambodian provinces.

"The association will do its best to be a bridge linking the two countries. If Chinese enterprises encounter difficulties in Cambodia, the association will render its utmost assistance," the diplomat said, adding that today's deep-rooted Cambodia-China friendship carries more weight than ever before.

Pleased at Xi's state visit to his country, Ek Sam Ol believed that his trip will bring bilateral ties to a new high. He further pointed out that Xi is now endeavoring to build a more prosperous China, while Cambodia is now learning from his governance experience.

"The world cannot prosper in the absence of China, and China will definitely carry more and more global influence," he pointed out.

Describing Cambodia and China as sincere friends, he told the People's Daily that many Cambodian people have Chinese descent, so a host of Chinese customs prevail in his country till now.

"As the Cambodian people are aspiring for a closer friendship with China, Xi's visit will add weight to such deep-rooted relationship," Ek Sam Ol underlined.

He also spoke highly of the "Belt and Road" initiative put forward by Xi three years ago, saying that it can create a win-win situation for all countries and bring the third world hopes for rapid development.

The initiative has enhanced regional connectivity and brought concrete opportunities and benefits to Cambodia, one of the en-route countries, he further emphasized.

"Cambodia cannot realize development without China's help, and it feels lucky to have such a good friend," the diplomatic stressed.