By Ji Peijuan from People's Daily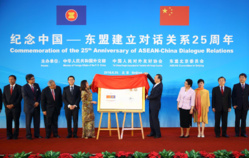 Tides have risen and fallen over the past year, and the South China Sea has returned to calm, Chinese Foreign Minister Wang Yi made the remarks at a press conference on the sidelines of the ongoing annual session of the National People's Congress in Beijing on Wednesday.

"I would go further than saying the temperature has lowered "somewhat" and say that it has lowered 'significantly'", the minister said, adding that this is the result of the joint efforts of China and ASEAN countries, and it's welcome news for the region and the world.

At present, the Declaration on the Conduct of Parties in the South China Sea (DOC) is being implemented in a full and effective manner, and the directly concerned countries have returned to the right track of settling their disputes through dialogue and consultation, the diplomat said.

"China and the ten ASEAN countries are advancing the Code of Conduct (COC) consultation to work out a common set of regional rules," he added.

The China-ASEAN joint working group has made visible progress and produced the first draft of COC framework at the end of February. China and the ASEAN countries are all happy about it. Wang elaborated.

Last year marks the 25th anniversary of the China-ASEAN dialogue relations, and this year marks the 50th anniversary of ASEAN's founding. Commenting on it, Wang said that the silver anniversary and the golden anniversary are especially auspicious for regional cooperation.

"China will support the Philippines in fulfilling its responsibilities as the ASEAN Chair, and we will help build the ASEAN Community," he pledged, furthering that both sides have agreed to establish a bilateral consultation on the South China Sea issue and set up a cooperation mechanism between the coast guards.

China and the ASEAN, with an aim to strengthen bonds of friendship, will make a success of the China-ASEAN Tourism Cooperation Year in 2017, and strive to meet a target of 30 million mutual visits by 2020.

The minister vowed that China will work with ASEAN to pursue greater mutual benefit, intensify cooperation on connectivity and production capacity, make sure both peoples benefit from the upgrade of the China-ASEAN Free Trade Area (CAFTA) as soon as possible, and wrap up the Regional Comprehensive Economic Partnership (RCEP) negotiations at an early date.

Talking about the Lancang-Mekong Cooperation (LMC) between China and the ASEAN members, Wang said that both sides will speed up work on the 45 "early harvest" programs, and invite applications for the LMC special fund.

"We hope LMC will become a flagship initiative in China's efforts to build a community of shared future with our neighbors and contribute more to the narrowing of disparity and the promotion of integration in our region", he noted, adding that the China Secretariat for LMC will be set up in a few days' time.