By Zhang Penghui from People's Daily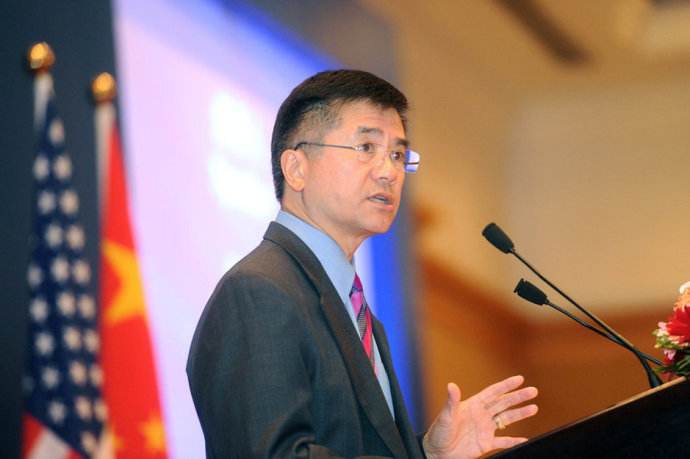 There needs to be more dialogues and face to face meetings between China and the US, so that they can expand common interests and manage disagreements, Gary Faye Locke, former US Ambassador to China told the People's Daily in a recent interview.

His statement came before Chinese President Xi Jinping starts his US trip on April 6, during which he will meet with his US counterpart Donald Trump.

The diplomat said that he is very impressed by how hardworking the Chinese people are, their desire for better life, as well as dedication of Chinese officials and people to modernize China to bring prosperity to people in all parts of the country.

The progress of China is due to the hard work of Chinese people, business leaders and government leaders, Locke told the People's Daily, praising their efforts to raise the standard of living and percentage of people in middle class in such a short period.

"We are most impressed how warm and friendly the people of China were to our entire family," he recalled his tenure in Beijing as US ambassador, saying that it is very interesting for the family to discover the roots of their ancestors and to travel to explore all parts of China.

Defining China-US ties as the most important bilateral relationship in today's world, the former ambassador believed that such relations have gone beyond a bilateral range, and coordination between both sides is very important to settle global hotspot affairs and address challenges confronted by the world.

More communications and face to face discussion are required to develop China-US ties, the diplomat pointed out. Only by developing better personal and working relationship through dialogues, can they understand each other and talk about areas of common interests and disagreement, he explained.

They can finally expand shared interests and manage differences, he added.

According to him, the three communiqués inked by China and the US, including the Shanghai communiqué, set the basis of US policy toward China. They constitute the cornerstone and guiding documents of bilateral relations.

Thanks to the persistence to these principles, he managed to deal with divergences of both nations and propel bilateral ties during his term, Locke said, adding that it is those guiding principles that enabled the US-China relations become the most important bilateral relationship in the world today.

Trump, in his recent phone conversation with Xi, reaffirmed its administration's adherence to the one-China policy, a guiding policy followed by successive US administrations governed by both Democratic and Republican parties.

Locke hoped that the Taiwan issue will no longer be an obstacle hampering bilateral relations.

He urged both nations to increase the exchanges and meetings between top government officials, especially face to face discussion, so that the most sensitive and important issues can continue moving forward.

China and the US have so much in common, but major areas of disagreement remained as well, Locke said, but emphasized that what is important is to minimize disagreements, improve upon bilateral ties, and address challenges through consultation and negotiations.

Both countries should continue with their dialogue mechanisms, the diplomat said, citing the US-China Strategic and Economic Dialogue as an example.

Locke, who also once served as governor of Washington and Secretary of Commerce, has been following the economic and trade ties between China and the US, a ballast stone and propeller of bilateral relationship.

During his eight-year long term as governor of Washington, the state doubled its exports to China, with the number totaling at nearly 20 billion dollars in 2015. The China-US trade also increased to 446.7 billion dollars in 2011 from 366 billion dollars in 2009 during his tenure as commerce secretary.

Commenting on bilateral trade relations, the most-concerned agenda of the new US administration together with creation of job opportunities, he said that trade should have greater improvements.

"We need to avoid that will damage the work in both China and America," he urged both nations to avoid a trade war. "Nobody wins a trade war," he stressed.