By Abu Bakarr Kargbo – CAPC Beijing  (People's Daily Online)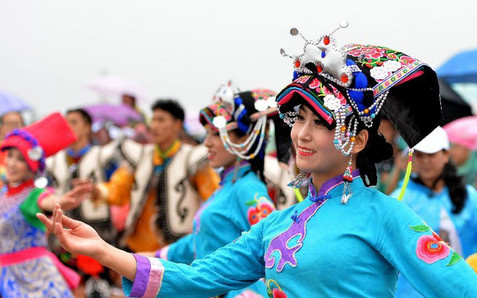 The People's Republic of China continues to adhere to the principle of ethnic equality when naming ethnic groups and insists that the status of an ethnic group should be recognized as long as it meets certain conditions, regardless of population size or level of social development. Therefore, even a few thousand people can be recognized as an ethnic group.
The Chinese Government, Communist Party of China (CPC) and Central Committee of the Chinese People's Political Consultative Conference (CPPCC), have as a priority ethnic harmony and development, which has led to a brighter example of peace and national development fostered by ethnic groups in the country. The government continues to provide support to local Ethnic autonomous administrations and have given them ethnic autonomous powers, so that they have the right to use and preserve their own spoken languages and perform their culture at all times.
Mrs. Jin Chunzi, Deputy Director General, Department of Policies and Laws at the State Ethnic Affairs Commission, told African Journalists recently that the Commission was established in 1949 and has enjoyed a good long history in operating in a multi-ethnic group country. The Commission, she said has 15 Departments, 220 staff, 50% of which are from ethnic minorities.
"Some of its key tasks are to do research on ethnic affairs, suggest to government on policies and ethnic development and handle the day to day operations of ethnic affairs," Mrs. Jin said, and further added that the responsibility of the Chinese Government is to ensure that all ethnic groups stay in unity as a global philosophy and in accordance with United Nations regulations.
China is a large united multi-ethnic nation with 56 ethnic groups, which when put together is collectively called the Chinese nation. The Han people account for approximately 91% of the overall Chinese population, while the other 55 make up the remaining 9%, with a total population of more than 100 million. As the combined population of these other ethnic groups is far smaller than that of the Han, they are called ethnic minorities.
The State Ethnic Affairs Commission is working closely with the ethnic autonomous administration and has been encouraging locals to embark on economic development activities for their own prosperity. "We have given them the right to draft their own plans on education and culture, physical priorities and preservation of their culture and tradition. We are happy that the laws of ethnic minorities have contributed to their unity and protection in China," says the Deputy Director General.
Lu Wexiang, Director in Department of Economic Affairs described China as a peaceful country and a multi-ethnic united country that ensures that no ethnic group or region is left out in the development of the whole nation. The Commission, he said is working in line with government's poverty elimination strategy, which targets 2020 for poverty eradication. "We are using the rich helping the poor approach. Lots of achievements have been made over the years due to the good policies put in place by the CPC, the current government and the people's willingness to embrace unity at all times," he said, and noted that uniting with the government paves the way for greater opportunities and prosperity ahead.

Abu Bakarr Kargbo is a Senior Staff Writer of Standard Times Newspaper in Sierra Leone and an Intern at People's Daily Online.