By Zhang Yiqi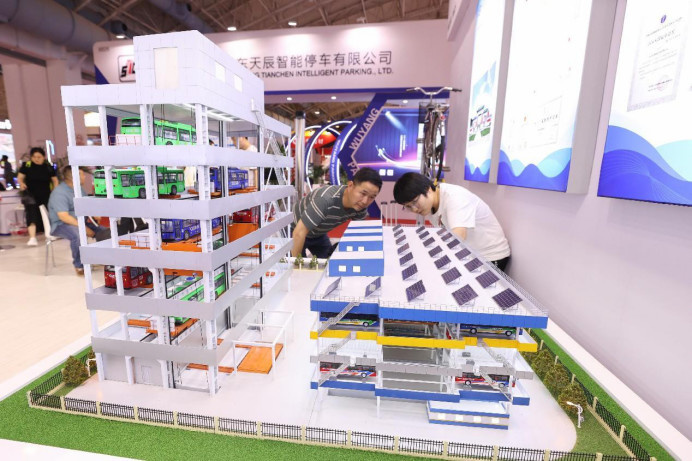 A model of a three-dimensional parking lot for buses is exhibited at the China International Urban Parking Industry Expo held in Beijing, May 31, 2023. (Photo by Chen Xiaogen/People's Daily Online)
"Sometimes I want to drive, but I'm worried about the parking problem. It often happened that I couldn't find a parking space even after I drove around my destinations for half an hour," said a man surnamed Yang in Beijing.

This is something experienced by people in many Chinese cities. According to statistics, the number of motor vehicles in China reached 426 million as of the end of June this year, and that exceeded 1 million in 88 cities.

In particular, both Beijing and Chengdu have an automobile population of over 6 million, and that in Chongqing, Shanghai and Suzhou surpassed 5 million.

Apart from expanding the supply of parking space, cities across China are working to improve the efficiency of parking with digital technologies and thus alleviate the parking problem.

Many people in China have had this experience - driving around in the parking lot for a parking space, which is both time- and energy-consuming. Today, thanks to the application of digital and intelligent technologies, it's becoming more and more common that drivers are directly led to available parking spaces by navigation apps.

After a user selects a parking lot near his or her destination in a navigation app, the app will recommend the user the best parking spaces for the time being when the user drives near the entrance of the parking lot, and then guide the user to the designated parking space.

Yang recently found this function in the navigation app launched by Chinese tech giant Baidu and tried it when he drove to Beijing's Fengtai railway station to pick up a friend a few days ago. When he arrived at the parking lot, the app selected an available parking space for him and guided him there.

"It's so convenient that the app just led me to the parking space. I hope this function can be available in all parking lots," he said.

At present, technologies for this type of intelligent parking guidance are rapidly developing. More and more parking lots will see a higher efficiency because of them.

People often had to wait in line at the exit to pay before leaving a parking lot, which might took as long as more than 30 minutes in rush hours. Thanks to the popularization of mobile payment, the scan-and-pay service has significantly reduced the waiting time, and the waiting lines are becoming shorter and shorter.

In particular, the frictionless payment that is currently on the rise has enabled users to pay and leave without stopping at the exit, taking out their wallets, scanning the QR code or even rolling down the window. The payment system will automatically deduct money from users' bank accounts and open the barrier gate.

An insider told People's Daily that frictionless payment is a result of the combination between password-free payment and license plate recognition. It synchronizes license plate recognizing, gate opening and fee deduction. It is estimated that this method can save more than 80 percent of time compared with traditional ways.

It is learned that many other frontier technologies have been applied in the management of parking lots, too, such as the license plate scanning that helps people rapidly locate their parking locations. Besides, autonomous valet parking systems are also making parking easier, and they are expected to integrate with vehicle charging in the future for better parking experiences.

The parking problem concerns people's livelihood. Better parking facilities can improve people's sense of fulfillment. Multiple regions in China are working to promote the construction of intelligent parking facilities. This April, Beijing officially put into use a technical requirement for intelligent parking systems, which offers technical basis for the construction and upgrading of intelligent parking systems in the city's commercial parking lots. Shanghai plans to build more than 100 demonstration smart public parking lots and more than 100 demonstration smart roadside parking lots by 2025. Twenty demonstration smart parking lots will be in place in the city this year.

Li Liping, head of the China Council for the Promotion of International Trade Construction Industry Branch, noted that smart parking, as an important part of urban renewal, can not only accelerate industrial upgrading, but also help release consumption potential.

At the recent 23rd China International Urban Parking Industry Expo 2023, a batch of parking technologies and equipment were unveiled. Experts believe that the rapidly rising number of new energy vehicles and the market demand for urban renewal and renovation will drive the upgrading of parking facilities and create new opportunities for relevant industries. Besides, the application of big data, internet of things, artificial intelligence and other technologies will make parking smarter and cities more intelligent.