By Liu Lingling from People's Daily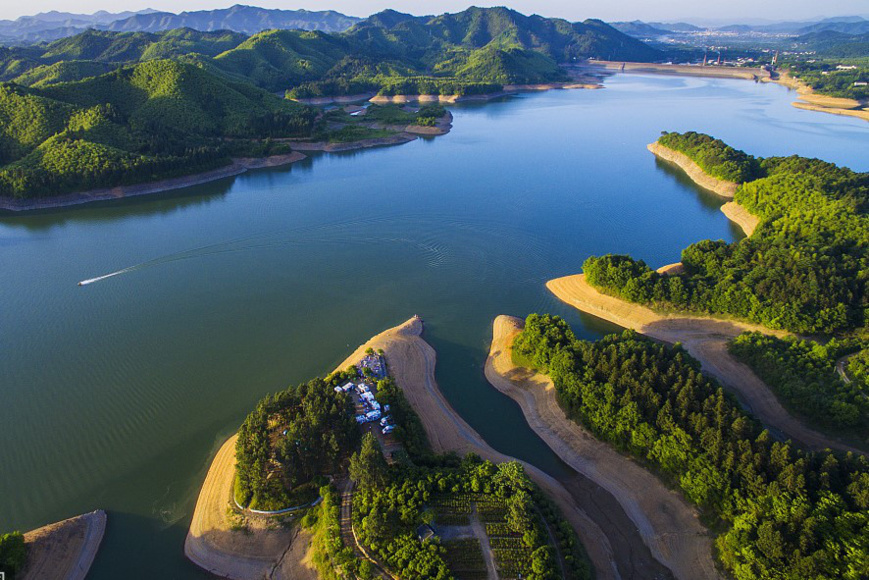 Anji, eastern China's Zhejiang province has become China's first ecological county on national level after removing 79 mines since 2006. It is a shooting spot for movie Crouching Tiger, Hidden Dragon. (Photo by CFP)
China's intensified efforts to protect ecological environment and build a beautiful China have been rewarded, as ecological dividends have been generated from this stronger-than-ever campaign.

The total area of new forests created in China stood at 7.36 million hectares last year, up 8.46 percent, according to a recent report issued by the country's National Afforestation Committee. A total of 8.30 million hectares of forests were tended as well.

Thanks to its unprecedented resolution and strength to enhance ecological construction, China has added 163 million hectares of new forests in the last 5 years and reduced the land of desertification at a speed of nearly 2,000 square kilometers per year.

In the same period, the release of major pollutants has been consistently declining, and the number of days of heavy air pollution in key cities has fallen 50 percent.

Both energy and water consumption per unit of GDP have been down by more than 20% in the past five years. In addition, the country has seen an 8.1% decrease in the ratio of coal consumption and a 6.3% rise in the ratio of clean energy consumption.

As an active promoter of the Paris climate agreement, China has also made vital contribution to addressing global climate change.

Huge ecological dividends have been generated from such efforts, as it provides the country with a way to bring its people towards prosperity. It is learnt that the country has employed a total of 370,000 forest rangers in impoverished regions, alleviating more than 1.3 million citizens out of poverty.

In the next few years, China plans to involve about 100,000 impoverished residents in the ecological progress, create 400,000 jobs of ecological protector and increase income for 15 million people by launching big ecosystem restoration projects, compensating more for ecological damage and developing the eco-industry.

Ecological conservation has been high on China's agenda in recent years. The report to the 18th National Congress of the Communist Party of China (CPC) for the first time put forward the concept to build a "beautiful China", and the Beautiful China initiative was also written in the report to the 19th CPC National Congress last October. This March, ecological civilization has been historically constitutionalized.

Those intensified endeavor has turned a remark by Chinese President Xi Jinping on ecological environment--lucid waters and lush mountains are invaluable assets--into a reality and a concept imprinted on the public's mind.

Xi also stressed previously that "We have to understand that to protect the environment is to preserve our productivity and to improve the environment is to develop our productivity".

At present, the improved environment of China has turned into advantages for its development, helping the country to write brighter chapters in the future.