By Liu Lingling from People's Daily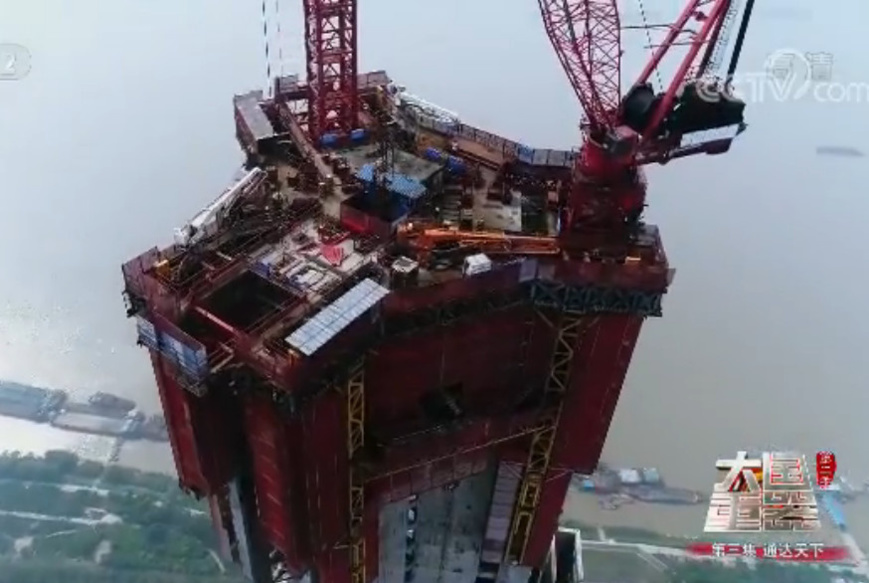 Latest-generation jack platform designed for construction of super-tall buildings. (Source: screenshot from the documentary "The Pillars of a Great Power II" filmed by China Central Television.)
China has been the largest manufacturer of construction machinery around the world, occupying 12 seats among the world's top 50 machinery enterprises, according to China Central Television, adding that its infrastructure has wowed the world with refreshed records and impressive speed.

The heroes standing behind the amazing "Chinese speed" are competitive construction equipment created by Chinese makers as they are capable of solving the world's toughest construction problems.

Such miracles include the 4,000-ton jack platform that can make a 4.5-meter move up within five hours, 12 production lines that each can produce 15,000 tons of cements every day, as well as the elevator that can lift ships in just 40 minutes.

China is among the four countries worldwide that can produce a kind of pump truck with a 47-meter-long arm whose strength can reach 1,800 MPa. The ultrafort steel for the truck was independently developed by China.

The latest-generation jack platform independently designed for construction of super-tall buildings has significantly improved the working efficiency, and as a result refreshed the skyline of Chinese cities in a green, safe and efficient way when the country is going through the largest ever urbanization in the history of mankind.

It is also expected to provide support for the safe construction of almost 70 percent high-rise building over 300 meters around the world.

Loaders are important machinery to evaluate the strength of a country's engineering construction. China has developed a loader for plateaus that outperformed the rest of the world. Installed with torque converters of independent intellectual property, such loaders can scoop and load a maximum of 1,400 tons within an hour.

The self-developed full face tunnel boring machine, also known as "underground aircraft carriers", is another witness of China's strength in manufacturing construction equipment.

The huge machinery, 230-meter-long with a 7-meter diameter, has conquered a challenge that haunted the global industry for half a century. Thanks to such world-class technology, the China-made tunnel boring machine has won two thirds of the market share in the globe.

The 4,000-ton crawler crane, the concrete pump truck with a 101-meter carbon fiber arm, the 5,200-ton high-level slewing tower crane and some other heavy machines are also the contributors helping China to the first club of construction machinery.

These China-made building machineries have not only contributed to its own infrastructure, but also will grow into a backbone for global infrastructure by cracking the hard nuts faced by the whole world.