By Xing Xue from People's Daily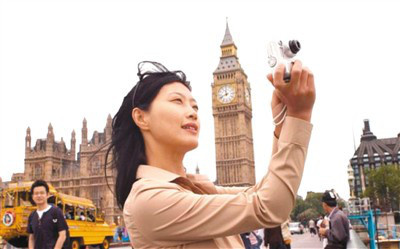 London sees more and more tourists from China. (Photo by People's Daily Overseas Edition)
China's Engel's coefficient, which measures food expenditure as a proportion of total household spending, has approached the well-off line set by the UN, and such changes have even benefited the European market.

China's Engel's coefficient in 2016 stood at 30.1%, close to the well-off line of 20 to 30 percent set by the UN, said Ning Jizhe, head of the National Bureau of Statistics (NBS) at a press conference held by the country's State Council Information Office on Oct. 10.

More than 6 million Chinese tourists from nearly 300 cities traveled to 1,155 cities in 88 countries and regions during China's eight-day National Day and Mid-Autumn Festival holidays in early October, statistics released by the China National Tourism Administration (CNTA) revealed.

Chinese people are now more generous in traveling spending. Data showed that the revenue of domestic tourism during the eight-day vacation has hit 583.6 billion yuan (about 88.5 billion U.S. dollars), increasing by 13.9% compared with that in 2016.

The week-long national holiday likely meant big paydays for traditional tourist destinations, such as London or Paris, CNBC said in a recent report.

The UN uses the Engel's coefficient to grade living standards of the countries as the spending on food will take a less part of total household expenditure if family income increases.

The UN line labels a coefficient above 60% as poverty, 50-60% as barely meeting daily needs, 40-50% as a moderately well-off standard of living, 30-40% as the relatively affluent, 20% -30% as the rich while below 20% as the extremely wealthy.
The lowering Engel's coefficient of China is a reflection of the improving livelihood of Chinese citizens, said Bai Ming, a research fellow with Chinese Academy of International Trade and Economic Cooperation under the Ministry of Commerce.

The rigid demand of the citizens is decreasing, thus leaving more space to satisfy their high level needs, Bai added.