By Li Maoying, People's Daily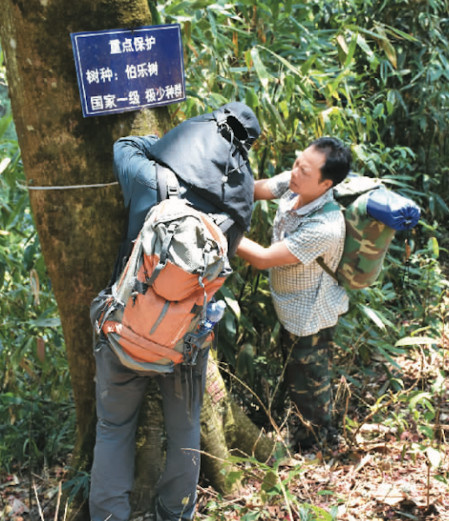 Does a plant still have value for conservation if there are only a few found surviving in the wild?

For botanists, the answer is definitely yes.

In southwest China's Yunnan province, they seek and protect rare plant species in the wild, introduce and breed the species and then return them to nature. Thanks to more than 10 years of efforts, Yunnan has begun to bear fruit in the protection of plant species with extremely small populations, or PSESP.

The number of wild individuals of magnolia sinica, a species of flowering plant native to the province, has grown to 15,000 from merely six when the species was first discovered.

The Qiaojia pine, or southern lacebark pine, once only had some 30 trees worldwide, but now it has nearly 10,000 seedlings through artificial propagation made by Yunnan.

Besides, Poncirus polyandra endemic to Yunnan, a precious breeding germplasm resource of citrus, had once become extinct in the wild. Now, it has rebuilt its population in its place of origin.

So far, more than 30 such species have been saved from extinction in Yunnan.

Earlier this year, three departments of Yunnan jointly issued a PSESP rescue and protection plan for the period between 2021 and 2030, which included 101 plant species.

The plan aims to maintain or increase the populations of all listed species, improve their habitat environment and avoid their extinction, and finally formulate a basically complete rescue and protection system for PSESP.

When the Qiaojia pine was first discovered in the wild in the 1990s, there were only 34 individual plants remained.

In August 2021, a Qiaojia pine grown at Kunming Botanical Garden affiliated to the Kunming Institute of Botany, Chinese Academy of Sciences, bore fruits for the first time.
It indicated the preliminary success of the ex-situ conservation of the species. Researchers have waited 12 years for the day.

The protection of plant species always calls for years or even decades of effort and persistence. It takes a long time for ligneous plants to flower and bear fruits after they are relocated for conservation-magnolia sinica needs 30 years, Acer yangbiense needs eight years, and Quercus sichourensis needs 13 years.

Yunnan is one of the global biodiversity hotspots, and a region where wild species are seriously threatened. Rare and endangered plants in the province face common predicaments: narrow distribution, external disturbance, and small numbers of both populations and individuals. Many of them are on the verge of extinction because they are present in a number that's below the minimum viable population.

To save these species, Yunnan proposed the conservation initiative of species with extremely small populations in 2005, and issued a guideline and an emergency action plan for the rescue and protection of those species five years later.

"A species is like a gene pool. PSESP is an extremely valuable gene resource of nature, a potential 'green gold mine,'" said Sun Weibang, researcher with the Kunming Institute of Botany.

Sun, who's the director of a key laboratory for integrative conservation of PSESP under the Kunming Institute of Botany, noted that every species listed as PSESP in Yunnan has a unique protection plan. Based on the features of different species, a comprehensive PSESP protection system has been developed, which covers in-situ conservation, ex-situ conservation, maintenance of germplasm resources, as well as population enhancement, according to Sun.

For more than a decade, Yunnan has implemented over 120 projects of PSESP rescue and protection. So far, the province has set up 30 sites for PSESP protection, 13 ex-situ conservation bases, and five experimental bases for returning PSESP to nature.

So far, over 100,000 plants of 61 species with extremely small populations have been put under ex-situ conservation. Besides, the province has returned over 30,000 artificially cultivated plants of 16 species with extremely small populations in the wild.

Only through sustainable utilization can PSESP be better protected. Many of these species are of high medicinal and ornamental value, and have great potential for development and utilization.

Malania oleifera, which is rich in nervonic acid, helps the human nervous system absorb nutrition and repair. Thanks to its years of technical research, the Oil Tea Camellia Research Institute of the Yunnan Academy of Forestry and Grassland has lifted the species' survival of transplantation to over 85 percent.

Now the institute can cultivate over 2 million seedlings of the species each year.

From basic research to commercialization, Yunnan's Guangnan county is now home to over 1,600 hectares of Malania oleifera, aiming to achieve simultaneous conservation and utilization of the plant. The species is no longer considered endangered, and is leading local residents toward prosperity.

The conservation of species with extremely small populations has become a consensus since the concept was put forward by Yunnan province 18 years ago. It is also receiving broad attention from the international community of plant protection.

Today, the basic theories, protection modes and experiences of China's PSESP conservation are being applied by multiple countries in protecting local plant species.